Peter Britten has been measuring his season in millimeters. And not only because he's an Aussie.
To him, being off by a "millimeter" with his race car's setup could mean the difference between winning and far from it.
When he and his team unloaded in February for DIRTcar Nationals they were on point. The car was fast, and Britten was comfortable, picking up a win and was a top contender for the Big Gator Championship until bad luck took him out of the running. Then, three months later when the Super DIRTcar Series championship season started, they found themselves off base and searching for the mysterious millimeters of perfection.
However, after a recent win at Land of Legends Raceway – where he also got his last Series win and where the Series will be on Thursday, June 30, for the Stars and Stripes 76 – Britten said he feels they are be closing in on it.
"In this game, it's a game of millimeters," he said. "The car set ups are very precise. It doesn't take much to be off just that little bit. It's just a matter of figuring everything out where you fine tune and get in that perfect window. We all have the same cars, basically. If you're not perfect, you're not going to be good enough on the night.
"I feel like [two weeks ago] the car was really strong at Canandaigua, and we got a win there. Kind of narrowed down on that zone again. Feeling confident and comfortable in the car, too."
So far this season with the Super DIRTcar Series, Britten has collected three top-10 finishes in five starts with his best finish of seventh coming at Bridgeport Motorsports Park – the championship season opener. He started on the pole at Lebanon Valley Speedway and led laps, but faulty power steering ended his night early.
With the competition so close this year, Britten said the smallest tweaks with shocks and springs can feel like the biggest adjustments.
"When you're in that window you're like a bullet," he said. "When you get out of that window you're not. It doesn't take a lot to get out of that window."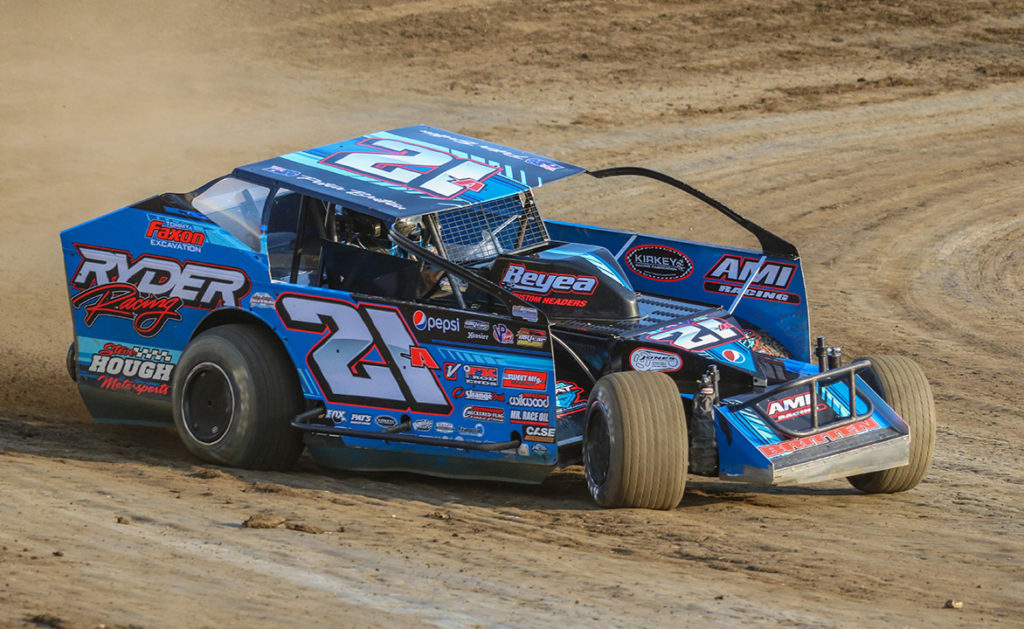 After his track victory at Land of Legends Raceway – where he's also currently the points leader – Britten said he felt like they found that window again. And found confidence in himself again, too.
While he knows he can be competitive and win races, a streak of less than desirable performances can weigh on the mind.
"I felt like it was important for me to get some confidence and belief back," Britten said. "Not that I don't believe in myself but mental is a big thing in this industry, in any sport really. I feel like I got a bit of that back on my side again. Pump my chest out a little bit and here we go.
"Perfect time to get everything firing. Now the Series is really going to get rolling. It's good to get going in the mid-summer months. That's always what makes or breaks this deal is the summer months. I feel like we're heading in the right direction."
Having made Land of Legends one of his weekly home tracks has not only made Britten a prime contender there but helped him get better on other tracks on the Super DIRTcar Series tour, including Oswego Speedway – which will host the 50th Running of NAPA Super DIRT Week, Oct. 3-9.
"I feel like if you get rolling good at a track like Canandaigua you seem to be able to parlay that into a majority of racetracks on the Series," he said. "There, you have to keep your momentum up and if you screw up you don't just pay at that corner, you're still losing it on the straightaway. It teaches you a lot about your driving running there.
"It just seems to suit my style now or my style has evolved around it. Just one of them things that fits me now. When we're running well it doesn't mean I can't struggle there too. Typically, I'll get running well there and that will transfer everywhere else."
For more information on the Stars and Stripes 76 at Land of Legends Raceway, click here.
If you can't make it to the track, you can watch all the action live on DIRTVision – either online or by downloading the DIRTVision App.