DIRTcar Nationals
Friday, February 16, 2024
The DIRTcar Nationals begins in
Event Info
DIRTcar Nationals

February 5, 2024 to February 17, 2024
Volusia Speedway Park
1500 East State Road 40
Barberville, FL
Event Description
Kick off the racing season with two full weeks of racing in Florida at the World's Fastest Half-Mile, Volusia Speedway Park!
Series Racing
Super DIRTcar Series, World of Outlaws Late Model Series
Sprint Car Track Record
12.569s by Paul McMahan on 2-10-11; 360 Sprint Car: 14.160 sec. by Brenham Crouch on Jan. 27, 2023; Non-Wing: 16.362s by Thomas Meseraull on Feb. 14, 2023
Late Model Track Record
Super: 15.141 sec. by Billy Moyer on Feb. 20, 2012
Event Schedule
UPDATE: 4:30PM GATE TIME ON FRIDAY
1PM Pit Gates open
5PM Grandstand Gates open
5:15PM Hot Laps/Qualifying
7PM RACING
See Detailed Schedule
*All times Eastern
Event Hashtag
#FLinFeb
Frequently Asked Questions
Type of Grandstand
Bleachers, Chairbacks
Stadium Seating
Stadium seats are allowed as long as they don't conflict with the aisle behind you.
Handicapped Seating
All Handicap seating is the first rows of each section
Handicapped Parking
Handicap parking spots available. All spots are first come first serve.
Pit Age Limit
There is no age restriction in the pits. Anyone 17 years of age or younger will need to fill out a minor waiver form and be accompanied by an adult.
Pit Gate Location
East or West side of the Track.
Personal Coolers
Six-pack maximum cooler size. No alcohol. No glass.
ATMs
1
Credit Card Use
Pit Gate, Ticket Window
Alcohol Sales
Beer is available for purchase at the track.
Smoking Policy
No smoking in the Grandstands.
Parking Cost
General Parking Free
Camping Availability
electric hookup, non-electric, onsite, sanitary facility, showers
Camping Cost
$25 a day for dry camping, $50 for hook-up, $75 for electric/water/sewer.
Closest Airport
Daytona International Airport
Other Airport
Orlando Sanford
Track Info
Track Phone
(386) 985-4402
Ticket Phone
(844) 347-8849
Track Email
volusiaspeedway@dirtcar.com
Track Size & Type
0.500; dirt oval
Sprint Car Track Record
12.569s by Paul McMahan on 2-10-11; 360 Sprint Car: 14.160 sec. by Brenham Crouch on Jan. 27, 2023; Non-Wing: 16.362s by Thomas Meseraull on Feb. 14, 2023
Late Model Car Track Record
Super: 15.141 sec. by Billy Moyer on Feb. 20, 2012
Results
Matt Sheppard starts his run for a 10th Series title, Mat Williamson looks to continue with momentum found at DIRTcar Nationals, and Canadian Mathieu Desjardins makes his Series debut as a full-time driver
The Super DIRTcar Series will kick off the 2023 championship season at Atomic Speedway in Chillicothe, OH, March 31-April 1. The two-night event will be the Series' inaugural trip to the southern Ohio track and the first to the Buckeye state in four years.
The payouts will be significant, with both races granting the winner a starting spot at the 51st Running of Super DIRT Week. Contenders will also race for a $10,000 top prize on night one, followed by a $12,000 payday on night two.
If you can't make it to the track, you can watch all the action live on DIRTVision – either online or by downloading the DIRTVision App.
Here are the top storylines to follow:
TEN TIMES: Nine-time and defending Super DIRTcar Series champion Matt Sheppard will start his hunt for an unprecedented 10th Series title at Atomic Speedway.
The Waterloo, NY driver had one of the most pronounced seasons of his career last year, capturing seven Feature wins including a third Billy Whittaker Cars 200 title. With that success, he comes into this season currently tied with Danny Johnson for second on the all-time Series wins list at 89, looking to make history with a 90th victory.
KEEP IT GOING: After capping off last year on top of his game with two wins in three nights at the World Finals season finale, 2022 Series runner-up Mat Williamson returned to Florida last month for the Federated Auto Parts DIRTcar Nationals to do it all again.
Notching two wins in three nights during the Florida event, the St. Catharines, ON native brought home his first career Big Gator championship trophy. He'll look to translate that momentum into a strong run in the Buckeye state and the rest of the Northeast region as the championship season begins.
NEWCOMER: Canadian Mathieu Desjardins became the center of attention on night two of last year's World Finals when he beat out eventual Series champion Matt Sheppard to take the checkers in only his second Series start on American soil.
The veteran Sportsman Modified driver raced alongside his teammate full-time Series driver Paul St. Sauvuer, who retired at the conclusion of last season. Desjardins will now take over St. Sauvuer's #37 machine, looking to quickly make his presence known and bring home wins.
SOPHMORE SEASON: 2022 Series Rookie of the Year Anthony Perrego will look to build on the success he found in his first full season with the Series. His sixth-place finish in the points battle, the most successful finish of any Series rookie, garnered him the accolade.
His run was anchored by five top-five finishes, including a runner-up finish at his home track Orange County Fair Speedway. The Walden, NY native will have his first chance to compete for a win this year at Atomic Speedway.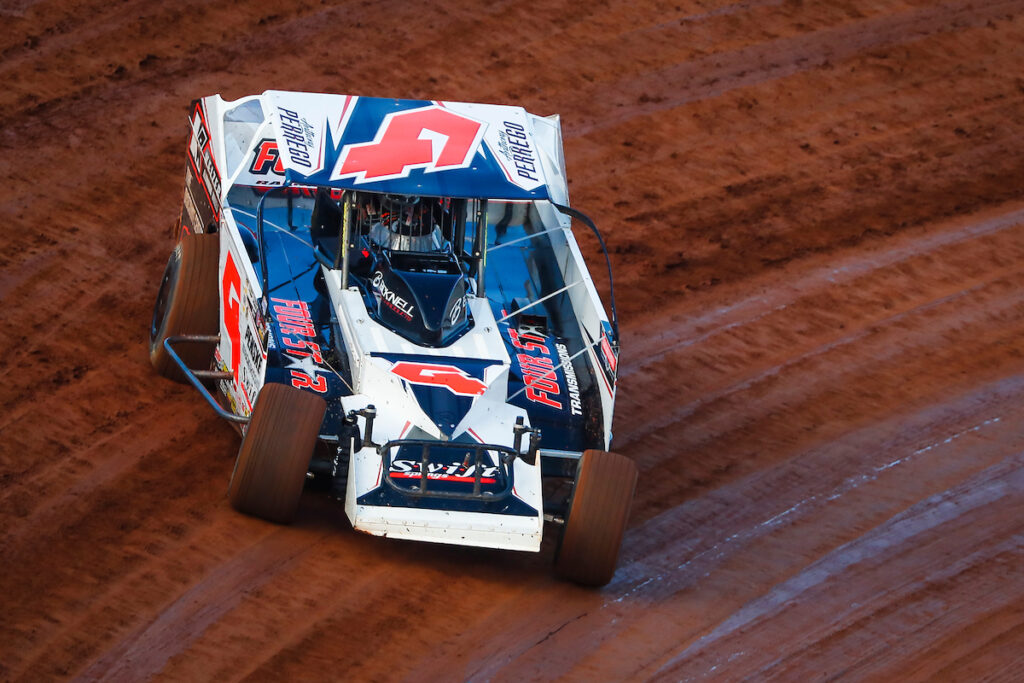 DOUBLE TROUBLE: Heinke-Baldwin Racing teammates Jimmy Phelps and Max McLaughlin have proven time and again to be a force to be reckoned with when they enter the track. Finishing third and fourth last season respectively, both will be contenders to keep an eye on at Atomic Speedway.
Last season, Phelps consistently delivered finishes near the top of the leaderboard. He notched a Feature win at Weedsport Speedway on the opening night of SummerFAST before going on to place fourth in the Billy Whittaker Cars 200 at Super DIRT Week. Though he did not perform up to expectations at the 2023 Federated Auto Parts DIRTcar Nationals, he plans to put that behind him and start with a clean slate with the start of racing in the Northeast.
McLaughlin proved why he is one of the rising starts of the Series after locking in a fourth-place finish at 22 years old last season. The Mooresville, NC landed his first points paying Series win along with a podium finish at the Billy Whittaker Cars 200. He carried that momentum into this season, posting a strong showing at the Federated Auto Parts DIRTcar Nationals, capturing the victory on night one. He most certainly will look to continue the strong showings this season starting at Atomic Speedway.
Track Facts:
Atomic Speedway
Configuration: 3/8 mile
Website: atomicspeedway.net
AROUND THE TURN: The Super DIRTcar Series will next travel to LaFargeville, NY on Saturday, April 15 to compete at Can-Am Speedway in a $7,500-to-win spectacular.
2023 FEATURE WINS:
1-Mat Williamson-2
2-Max McLaughlin-1
2023 HEAT WINS:
1-Jimmy Phelps-2
-Mat Williamson-2
-Erick Rudolph-2
-Rick Laubach-2
5-Stewart Friesen-1
-Peter Britten-1
-Justin Stone-1
-HJ Bunting-1
2023 BILLY WHITTAKER CARS FAST TIME AWARD
1-Mat Williamson-2
2-Jack Lehner-1
2023 LAPS LED
1-Max McLaughlin-30
2-Demetrios Drellos-29
3-Jack Lehner-24
-Rick Laubach-24
5-Mat Williamson-3
2023 Super DIRTcar Series Schedule & Winners
#/Day, Date/Track/Location/Winner (Total Wins)
1. Wednesday, Feb. 15 / Volusia Speedway Park / Barberville, FL / Max McLaughlin (1)
2. Thursday, Feb. 16 / Volusia Speedway Park / Barberville, FL / Mat Williamson (1)
3. Saturday, Feb. 18 / Volusia Speedway Park / Barberville, FL / Mat Williamson (2)