Stars and Stripes
Monday, July 03, 2023
The Stars and Stripes begins in
Event Info

Stars and Stripes

July 3, 2023
Land of Legends Raceway
2820 County Road 10
Canandaigua, NY
Event Description
Welcome to the 1/2-mile dirt track in Canandaigua, NY, Land of Legends Raceway. Prepare yourselves for the Super DIRTcar Series Stars and Stripes Spectacular, a celebration of patriotism with a $7,500-to-win feature! The DIRTcar Sportsman Central and West U.S. divisions will join the Big Blocks in this star-studded night.
Series Racing
Super DIRTcar Series
To Win Amount
$7,500.00
Feature Laps Length
60
Frequently Asked Questions
To Win Amount
$7,500.00
Type of Grandstand
Bleachers
Handicapped Seating
We have handicap area available in sections A-D in turn 4
Handicapped Parking
Handicap placarded vehicles are allowed to drive into the grounds and park behind the bleachers. (Access gate is off our general parking lot)
Pit Age Limit
None
Pit Gate Location
Off County Road 10
Personal Coolers
Small 6 pack sized coolers allowed. NO alcohol or glass containers allowed
ATMs
1
Credit Card Use
Ticket Window
Alcohol Sales
We serve multiple brands of beer/wine. No outside alcoholic beverages allowed to be brought in.
Smoking Policy
No smoking allowed in the grandstands
Family Section
Section J
Parking Cost
Free
Camping Availability
onsite, non-electric
Camping Cost
Free
Closest Airport
Rochester (Canandaigua has a small airport)
Other Airport
Syracuse
Track Info
Track Phone
(585) 412-9258
Ticket Phone
(585) 412-9258
Track Email
info@landoflegendsraceway.com
Track Size & Type
0.500; super fast clay oval
Results
After 25 years of racing in the Northeast, Scagliotta will look to improve on a career best 2022 DIRTcar Nationals finish at the 2023 Federated Auto Parts DIRTcar Nationals, Feb. 15-18
When Rich Scagliotta's boss bought New Egypt Speedway back in 1998, Scagliotta didn't have the foresight at the time to know how it was going to directly influence his life.
A dirt bike racer for most of his life up until 1985, the Bound Brook, NJ native "never really liked four-wheels." But after some coaxing from his boss, he bought his first motor from an individual in New Jersey and his first car from a Lebanon Valley Speedway racer.
For the next 10 years, he competed in his home state, racking up 22-career Sportsman victories. The following year, he wanted a bigger challenge.
To race against the best-of-the-best, he traveled to Central New York tracks such as Brewerton Speedway and Land of Legends Raceway before joining the Super DIRTcar Series full-time from 2010 to 2018.
Continuing to challenge himself by running against the best in the Series, he'll kick off his 2023 season at Federated Auto Parts DIRTcar Nationals at Volusia Speedway Park, Feb. 15-18 – the season opener for the Super DIRTcar Series.
At the 2022 DIRTcar Nationals, Scagliotta posted a career-best performance that included two fifth-place finishes.
The finishes were, of course, a source of celebration for him and his crew.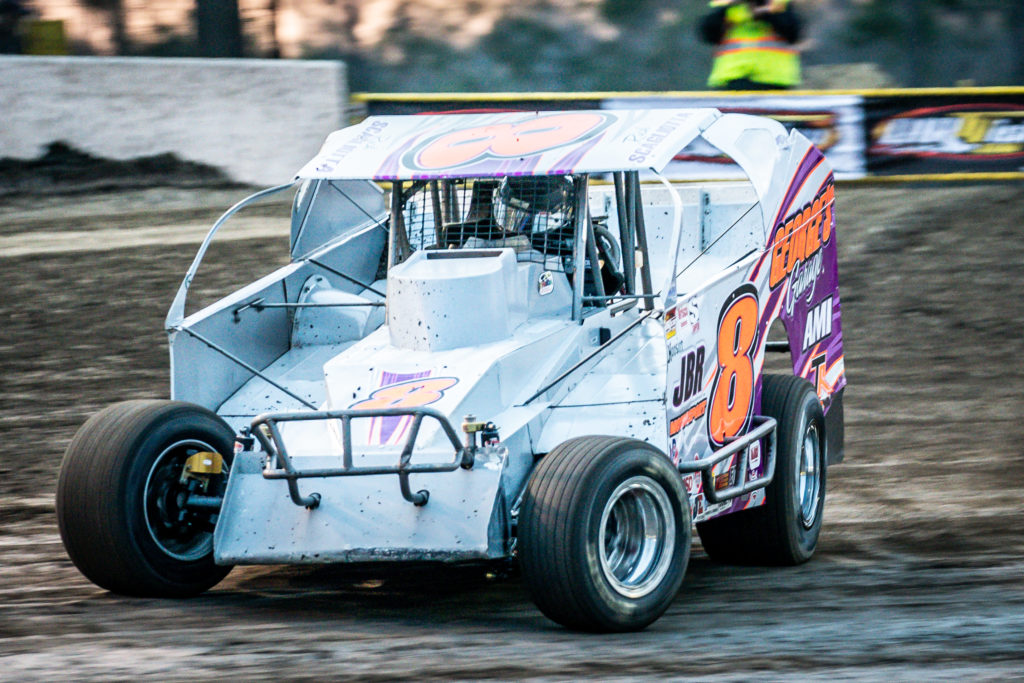 "I was very ecstatic," Scagliotta said. "Everybody in the group was ecstatic that I did so well. Peter (Britten, who he works alongside) did very well as well, but you always want to do a little bit better. To be honest, I hope I can repeat the performance this year."
During his career, a friendship was forged between Scagliotta and aspiring Big Block driver Peter Britten. The two met through mutual friend Bill Colton, owner of Troyer Race Cars. After paying his dues by working on Scagliotta's vehicle, making sure it was in top shape for competition, Britten eventually was able to make the jump to being a full-time Series driver competing alongside Scagliotta.
While his construction business continues to keep his schedule full, finding time for racing continues to be a battle. Yet with nothing to prove, Scagliotta continues to come back.
"I really enjoy the people," he said. "And I really enjoy the sport. And I enjoy the challenge. Being in your own business, you have a challenge every day and you strive for self-satisfaction… Whether you landed that job or did good on that job or something good happened at work. With a race car and racing, there's a smile on my face when I finish and I do good."
UP NEXT: The Super DIRTcar Series will commence it's 2023 season at Volusia Speedway Park during the 52nd DIRTcar Nationals, Feb. 15-18. For tickets, CLICK HERE.

If you can't make it to the track, you can watch every Super DIRTcar Series race live on DIRTVision – either at DIRTVision.com or by downloading the DIRTVision App.