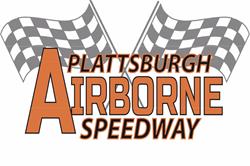 Assault at Airborne
Wednesday, June 14, 2023
The Assault at Airborne begins in
Event Info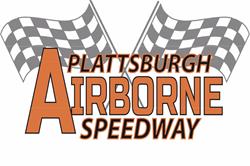 Assault at Airborne

June 14, 2023
Airborne Speedway
70 Broderick Rd.
Plattsburgh, NY
Event Description
June 15 RAIN DATE
Series Racing
Super DIRTcar Series
To Win Amount
$7,500.00
Feature Laps Length
75
Frequently Asked Questions
To Win Amount
$7,500.00
Type of Grandstand
Bleachers
Stadium Seating
top 5 rows reserved
Handicapped Seating
Metal Bleachers on front Stretch
Pit Age Limit
NO age restriction for pits. 17 and under must be accompanied by a parent/ guardian.
Personal Coolers
Yes, Must be no larger than 14.5 X 11.5
Credit Card Use
Ticket Window, Pit Gate
Alcohol Sales
yes, Beer
Smoking Policy
In an effort to promote family friendly entertainment, staff and management have made the decision to ban smoking from the grandstands. Those wishing to smoke must step away from the grandstands to do so.
Family Section
section E and F
Parking Cost
$0.00
Camping Availability
onsite, non-electric
Camping Cost
$15 a day
Track Info
Track Phone
(518) 561-3208
Track Size & Type
0.400;
Results
When the Canadian border reopened last year, several other doors opened with it for the Super DIRTcar Series.

Among them include the Series' return to Airborne Speedway for the $7,500-to-win Assault at Airborne, Wednesday, June 14 – its first time back at the track since 2019.

The opening allows the Quebec fanbase to flood back to the Plattsburgh, NY track – only 45 minutes from the Canadian border – with their New York friends, helping to make the event possible, according to Mike Perrotte, co-general manager of Airborne.
"We know the Quebec race fans really love the Big Block Modifieds," Perrotte said. "It's going to be a great show."
The Series previously competed at the half-mile track three times between 2017 and 2019, packing the grandstands each time, according to Perrotte. Larry Wight took the inaugural win in 2017 and the last in 2019. Danny Johnson won in 2018.
For Perrotte, the event is also a bit of a homecoming as he previously served as the Super DIRTcar Series director for four years (2015-2018) before returning to Airborne to serve as co-general manager with his wife Betsy, and as competition director and track surface management.
"I'm looking forward to it," he said. "We made many acquaintances and friends over the years. I'm really looking forward to seeing some of those faces again."
Perrotte, from Plattsburgh, grew up going to Airborne and racing at the track – in its dirt and asphalt configurations. His racing career first started off in drag racing, but in the mid-1970s he made the move to racing asphalt Late Models at Airborne.
When the track was converted to a dirt track in the early 1980s, he made the switch to Modifieds. About 10 years later, it was converted back into an asphalt track. However, Perrotte was committed to dirt Modified racing at that point and moved to racing at places like Albany-Saratoga Speedway and in Quebec.

In 2005, he was drawn back to the speedway, but this time in a new capacity. Perrotte and George Huttig, his car owner at the time, took over promotions for the speedway. He continued in that job even through a change in track ownership in 2013. Then, in 2015, he took on the opportunity to head the Super DIRTcar Series. After four years in that position, he returned to Airborne and has remained there ever since.
Along with the Super DIRTcar Series' return, the DIRTcar Sportsman Modifieds East and North Regions will open their 2023 season at Airborne Speedway on Saturday, April 29.
Knowing the potential both events can bring to the track, Perrotte shares the same eagerness as the New York and Canadian fanbases to see the series back at Airborne.
"There's an excitement that it brings with it," Perrotte said about seeing the Super DIRTcar Series again. "The grandstands will be full. Every Super DIRTcar Series race we've had there had packed grandstands. That's exciting."
For more about Airborne Speedway, visit, airborne-speedway.com. And to keep up with event information about the Super DIRTcar Series event, CLICK HERE.
If you can't make it to the track, you can watch every lap live on DIRTVision.