World of Outlaws World Finals
Saturday, November 05, 2022
Winner: Mat Williamson 2nd: Max Mclaughlin 3rd: Demetrios Drellos
Event Info
World of Outlaws World Finals

November 2, 2022 to November 5, 2022
The Dirt Track at Charlotte
5555 Concord Parkway S
Concord, NC
Event Description
For the first time ever, the most prestigious dirt racing event in the country lights up The Dirt Track at Charlotte with not three, but four days of heart-pounding, clay-slinging action on the lightning-fast, four-tenths mile oval. The World of Outlaws World Finals brings together the top series in the sport, the World of Outlaws NOS Energy Drink Sprint Car Series, the World of Outlaws Late Model Series and the Super DIRTcar Series, for four full days of racing culminating in the crowning of all three series champions.
Series Racing
Super DIRTcar Series
Sprint Car Track Record
11.880 seconds by Jeff Shepard on 10/6/01
Late Model Track Record
14.183 seconds by Kyle Larson on 11/5/20
To Win Amount
$15,000.00
Feature Laps Length
40
Event Schedule
VIEW FULL SCHEDULE
*All times Eastern
Event Hashtag
#AllDirtRoads
Frequently Asked Questions
To Win Amount
$15,000.00
Reserved Seating
Yes
Type of Grandstand
Bleacher with backs
Stadium Seating
Not allowed
Handicapped Seating
Lower level and Second level - Reserved seating required - Companion seating is available
Handicapped Parking
Designated handicap parking between the dirt track and zMax dragway
Pit Age Limit
All ages allowed. Minors ages 17 and under must have a signed waiver sheet. ONE parent must be present OR waiver should be notarized with the required ONE parent signature. Call 1-800-455-FANS with questions.
Pit Gate Location
Pit gate is located at Gate 2 of the zMax Dragway
Personal Coolers
No
ATMs
1
Credit Card Use
Concessions, Pit Gate, Ticket Window
Alcohol Sales
Alcohol is also sold at the track
Smoking Policy
designated smoking areas only
Family Section
n/a
Parking Cost
$5
Camping Availability
electric hookup, non-electric, onsite, showers, waste services
Camping Cost
Contact the track for pricing
Closest Airport
Concord-Padgett Regional Airport
Other Airport
Charlotte Douglas International Airport
Track Info
Track Phone
(704) 455-3200
Ticket Phone
(800) 455-3267
Track Size & Type
0.400; semi banked
Sprint Car Track Record
11.880 seconds by Jeff Shepard on 10/6/01
Late Model Car Track Record
14.183 seconds by Kyle Larson on 11/5/20
Race Recap
BEST FOR LAST: Mat Williamson caps off World Finals week with second victory
Mat Williamson closed the World of Outlaws World Finals at The Dirt Track at Charlotte the same way he opened it – winning.
The St. Catharines, ON driver gave his Canadian fans something to cheer for again Saturday night when he outdueled Max McLaughlin and Demetrios Drellos for the $15,000 victory – his third of the season.
And after Williamson celebrated his victory, Matt Sheppard later took to the stage to officially be crowned the 2022 Super DIRTcar Series champion – the Waterloo, NY driver's ninth title.
For Saturday night's Feature, the last race of the season for the Super DIRTcar Series, Williamson had his work cut out for him starting eighth on the grid.
He slowly chipped away at the pack, moving himself up to fourth position by the halfway point of the 40-lap matchup. Pole starter Erick Rudolph was still leading the way, with Billy Decker in second and Max McLaughlin in third.
Williamson then unleashed a second wind of speed, moving himself into second place by Lap 27 after passing Rudolph. He then locked into a battle with McLaughlin who had taken the lead by that point. With three laps remaining, he decided to take a risk.
"I kind of threw a slider there in three and four," Williamson said. "I know me and Max got together. That certainly wasn't intentional. There was a time I had to lift just off of Turn 3 before that. He was just doing everything he could to win the race and I was doing everything I could to win the race at that point."
However, the risk ended up being for nothing when the caution flew before the lap was completed, putting Williamson back to second. When the race resumed, though, Williamson threw his car to the outside of McLaughlin into the first corner and then powered around the #8H for the lead. And this time, he kept it.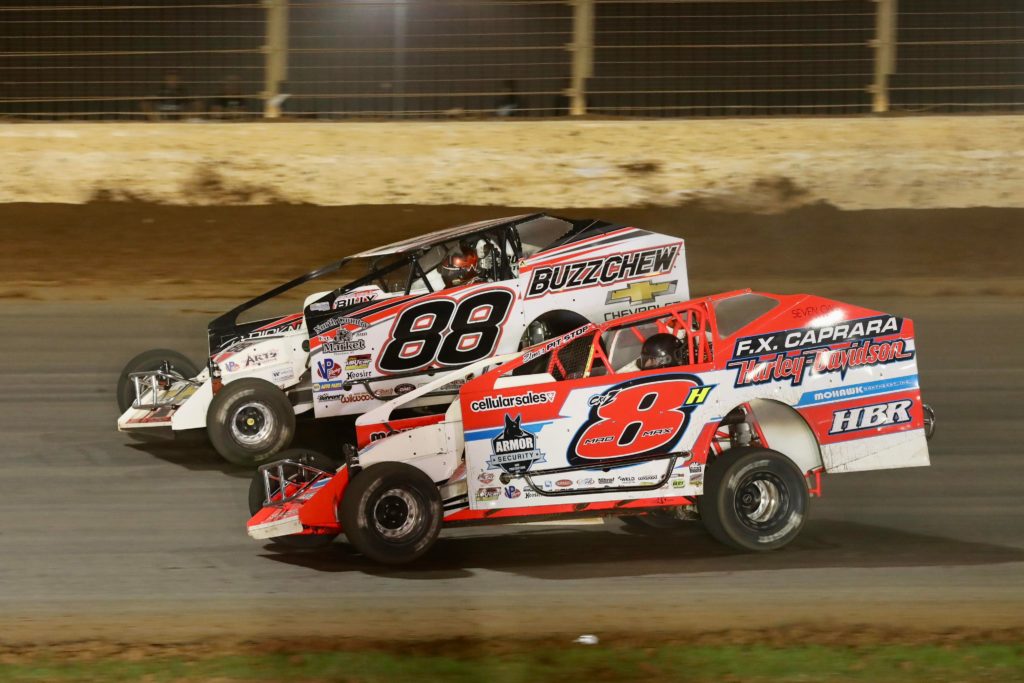 "We unloaded a backup car that was the same if not better than the primary," Williamson said. "It just goes to show you how good Billy the Kid is, Spot, Ernie, and all the guys that work on this thing. They got it so that it was dialed in…we unloaded it here without hesitation and we dialed her in and got the "W."
McLaughlin held on to cross the finish line in second, his first podium finish of the World Finals.
"I didn't know where he [Williamson] was running in one and two," McLaughlin said. "I ran the bottom on (Turns) one and two and he never showed the outside and he said Drellos showed him a nose on the outside before the last caution and that's where he ran."
Third-place finisher Demetrios Drellos also agreed that the finishing positions were decided during the last three laps, specifically the last caution.
"I knew we were going by Max that next turn when that caution came out," Drellos said. "I had the move all set up for him. We were by Mat. It was just one of those things where that caution came out and I showed Mat my hand and I showed him exactly what we were going to do that next turn. He did exactly what I was going to do and went right by Max."
Anthony Perrego came in fourth and Alex Payne rounded out the top five.
UP NEXT: The Super DIRTcar Series will commence it's 2023 season at Volusia Speedway Park for the DIRTcar Nationals, Feb. 15-18. For tickets, CLICK HERE.
Feature Results (40 Laps): 1. 88-Mat Williamson[8]; 2. 8H-Max McLaughlin[3]; 3. 111-Demetrios Drellos[6]; 4. 4-Anthony Perrego[5]; 5. 70A-Alex Payne[22]; 6. 91-Billy Decker[2]; 7. 2L-Jack Lehner[13]; 8. 98T-Tyler Thompson[24]; 9. 19-Tim Fuller[11]; 10. 215-Adam Pierson[26]; 11. 83X-Tim Sears Jr[19]; 12. 84Y-Alex Yankowski[9]; 13. 98JS-Rocky Warner[16]; 14. 98H-Jimmy Phelps[14]; 15. 9-Marc Johnson[10]; 16. 3-Justin Haers[18]; 17. 21A-Peter Britten[4]; 18. 37M-Mathieu Desjardins[7]; 19. 33-Louden Reimert[20]; 20. 12-Darren Smith[17]; 21. 21-Yan Bussiere[25]; 22. 11T-Jeff Taylor[23]; 23. 37-Paul St Sauveur[29]; 24. (DNF) 25-Erick Rudolph[1]; 25. (DNF) 34-Kevin Root[27]; 26. (DNF) 9S-Matt Sheppard[12]; 27. (DNF) 99L-Larry Wight[15]; 28. (DNF) 43-Keith Flach[21]; 29. (DNF) 14-CG Morey[30]; 30. (DNF) 17-Marcus Dinkins[28]
[Read More]
Results
Feature Results
| POS | Start | +/- | # | Driver | Laps | Behind | Led | Status | Points | Money |
| --- | --- | --- | --- | --- | --- | --- | --- | --- | --- | --- |
| | | 0 | | Mat Williamson | | -1,445.756 | | Running | | $ |
| | | 0 | | Max McLaughlin | | -1,447.336 | | Running | | $ |
| | | 0 | | Demetrios Drellos | | -1,447.380 | | Running | | $ |
| | | 0 | | Anthony Perrego | | -1,448.358 | | Running | | $ |
| | | 0 | | Alex Payne | | -1,448.737 | | Running | | $ |
| | | 0 | | Billy Decker | | -1,449.687 | | Running | | $ |
| | | 0 | | Jack Lehner | | -1,449.951 | | Running | | $ |
| | | 0 | | Tyler Thompson | | -1,450.209 | | Running | | $ |
| | | 0 | | Tim Fuller | | -1,450.360 | | Running | | $ |
| | | 0 | | Adam Pierson | | -1,450.798 | | Running | | $ |
| | | 0 | | Tim Sears Jr | | -1,451.209 | | Running | | $ |
| | | 0 | | Alex Yankowski | | -1,451.338 | | Running | | $ |
| | | 0 | | Rocky Warner | | -1,451.852 | | Running | | $ |
| | | 0 | | Jimmy Phelps | | -1,451.996 | | Running | | $ |
| | | 0 | | Marc Johnson | | -1,452.206 | | Running | | $ |
| | | 0 | | Justin Haers | | -1,452.411 | | Running | | $ |
| | | 0 | | Peter Britten | | -1,452.633 | | Running | | $ |
| | | 0 | | Mathieu Desjardins | | -1,452.853 | | Running | | $ |
| | | 0 | | Louden Reimert | | -1,453.294 | | Running | | $ |
| | | 0 | | Darren Smith | | -1,453.314 | | Running | | $ |
| | | 0 | | Yan Bussiere | | -1,453.899 | | Running | | $ |
| | | 0 | | Jeff Taylor | | -1,454.468 | | Running | | $ |
| | | 0 | | Paul St. Sauveur | | -1,454.531 | | Running | | $ |
| | | 0 | | Erick Rudolph | | -1,064.229 | | Running | | $ |
| | | 0 | | Kevin Root | | -1,067.303 | | Running | | $ |
| | | 0 | | Matt Sheppard | | -795.968 | | Running | | $ |
| | | 0 | | Larry Wight | | -447.143 | | Running | | $ |
| | | 0 | | Keith Flach | | -302.705 | | Running | | $ |
| | | 0 | | CG Morey | | -270.697 | | Running | | $ |
| | | 0 | | Marcus Dinkins | | -270.697 | | Running | | $ |
Last Chance Showdown Results
| POS | Start | +/- | # | Driver | Laps | Behind | Led | Status | Points | Money |
| --- | --- | --- | --- | --- | --- | --- | --- | --- | --- | --- |
| | | 0 | | Keith Flach | | -494.060 | | Running | | $ |
| | | 0 | | Jeff Taylor | | -497.603 | | Running | | $ |
| | | 0 | | Yan Bussiere | | -500.281 | | Running | | $ |
| | | 0 | | Kevin Root | | -500.354 | | Running | | $ |
| | | 0 | | Ryan Macartney | | -502.721 | | Running | | $ |
| | | 0 | | Bob Mcgannon | | -504.846 | | Running | | $ |
| | | 0 | | Danny Johnson | | -396.677 | | Running | | $ |
| | | 0 | | Brock Pinkerous | | -278.054 | | Running | | $ |
| | | 0 | | Ryan Godown | | -18.864 | | Running | | $ |
| | | 0 | | CG Morey | | -18.864 | | Running | | $ |
| | | 0 | | Brian McDonald | | -18.864 | | Running | | $ |
Last Chance Showdown 2 Results
| POS | Start | +/- | # | Driver | Laps | Behind | Led | Status | Points | Money |
| --- | --- | --- | --- | --- | --- | --- | --- | --- | --- | --- |
| | | 0 | | Alex Payne | | -170.715 | | Running | | $ |
| | | 0 | | Tyler Thompson | | -173.272 | | Running | | $ |
| | | 0 | | Adam Pierson | | -174.596 | | Running | | $ |
| | | 0 | | Ronnie Davis III | | -179.086 | | Running | | $ |
| | | 0 | | Rich Scagliotta | | -181.571 | | Running | | $ |
| | | 0 | | Zachary Payne | | -181.848 | | Running | | $ |
| | | 0 | | Dave Rauscher | | -184.842 | | Running | | $ |
| | | 0 | | Paul St. Sauveur | | -185.769 | | Running | | $ |
| | | 0 | | Peter Schwartzott Jr | | -186.817 | | Running | | $ |
| | | 0 | | Marcus Dinkins | | -186.817 | | Running | | $ |
Heat 1 Results
| Pos. | Start | +/- | # | Driver | Hometown | Difference |
| --- | --- | --- | --- | --- | --- | --- |
| | | 0 | | Demetrios Drellos | Queensbury, NY | -131.579 |
| | | 0 | | Mathieu Desjardins | Yamaska, QC | -134.436 |
| | | 0 | | Alex Yankowski | Covington Township, PA | -134.694 |
| | | 0 | | Jack Lehner | Saratoga Springs, NY | -136.182 |
| | | 0 | | Darren Smith | Binghamton, NY | -137.336 |
| | | 0 | | Jeff Taylor | Chittenengo, NY | -138.656 |
| | | 0 | | Keith Flach | Ravena, NY | -139.212 |
| | | 0 | | CG Morey | Rutland, VT | -140.226 |
| | | 0 | | Brian McDonald | Cornwall, ON | -107.689 |
| | | 0 | | Danny Johnson | Phelps, NY | -107.689 |
| | | 0 | | Ryan Godown | Ringoes, NJ | -107.689 |
Heat 2 Results
| Pos. | Start | +/- | # | Driver | Hometown | Difference |
| --- | --- | --- | --- | --- | --- | --- |
| | | 0 | | Billy Decker | Unadilla, NY | -128.191 |
| | | 0 | | Erick Rudolph | Ransomville, NY | -129.999 |
| | | 0 | | Marc Johnson | Guilderland, NY | -132.085 |
| | | 0 | | Jimmy Phelps | Baldwinsville, NY | -132.580 |
| | | 0 | | Justin Haers | Phelps, NY | -134.044 |
| | | 0 | | Kevin Root | Geneva, NY | -135.194 |
| | | 0 | | Ryan Macartney | Pauling, NY | -136.600 |
| | | 0 | | Bob Mcgannon | Garnerville, NY | -137.074 |
| | | 0 | | Yan Bussiere | Drummondville, QC | -137.418 |
| | | 0 | | Brock Pinkerous | Ellenville, NY | -140.258 |
Heat 3 Results
| Pos. | Start | +/- | # | Driver | Hometown | Difference |
| --- | --- | --- | --- | --- | --- | --- |
| | | 0 | | Peter Britten | Brisbane, QLD | -130.695 |
| | | 0 | | Anthony Perrego | Walden, NY | -132.015 |
| | | 0 | | Tim Fuller | Watertown, NY | -134.232 |
| | | 0 | | Larry Wight | Fulton, NY | -134.859 |
| | | 0 | | Tim Sears Jr | Central Square, NY | -135.547 |
| | | 0 | | Alex Payne | Canandaigua, NY | -136.434 |
| | | 0 | | Rich Scagliotta | Hillsborough, NJ | -137.611 |
| | | 0 | | Dave Rauscher | Waterloo, NY | -139.233 |
| | | 0 | | Ronnie Davis III | Syracuse, NY | -139.662 |
| | | 0 | | Paul St. Sauveur | Saint-Hyacinthe, QC | -140.441 |
Heat 4 Results
| Pos. | Start | +/- | # | Driver | Hometown | Difference |
| --- | --- | --- | --- | --- | --- | --- |
| | | 0 | | Mat Williamson | St. Catharines, ON | -131.510 |
| | | 0 | | Max McLaughlin | Mooresville, NC | -132.254 |
| | | 0 | | Matt Sheppard | Waterloo, NY | -132.861 |
| | | 0 | | Rocky Warner | Gloversville, NY | -135.878 |
| | | 0 | | Louden Reimert | Oley, PA | -136.331 |
| | | 0 | | Zachary Payne | Stanley, NY | -136.834 |
| | | 0 | | Tyler Thompson | Fulton, NY | -137.783 |
| | | 0 | | Adam Pierson | East Corinth, VT | -139.169 |
| | | 0 | | Peter Schwartzott Jr | White Plains, NY | -142.333 |
| | | 0 | | Marcus Dinkins | Watkins Glen, NY | -142.333 |