World of Outlaws World Finals
Friday, November 04, 2022
Winner: Mathieu Desjardins 2nd: Tim Fuller 3rd: Demetrios Drellos
Event Info
World of Outlaws World Finals

November 2, 2022 to November 5, 2022
The Dirt Track at Charlotte
5555 Concord Parkway S
Concord, NC
Event Description
For the first time ever, the most prestigious dirt racing event in the country lights up The Dirt Track at Charlotte with not three, but four days of heart-pounding, clay-slinging action on the lightning-fast, four-tenths mile oval. The World of Outlaws World Finals brings together the top series in the sport, the World of Outlaws NOS Energy Drink Sprint Car Series, the World of Outlaws Late Model Series and the Super DIRTcar Series, for four full days of racing culminating in the crowning of all three series champions.
Series Racing
Super DIRTcar Series
Sprint Car Track Record
11.880 seconds by Jeff Shepard on 10/6/01
Late Model Track Record
14.183 seconds by Kyle Larson on 11/5/20
To Win Amount
$10,000.00
Feature Laps Length
30
Event Schedule
VIEW FULL SCHEDULE
*All times Eastern
Event Hashtag
#AllDirtRoads
Frequently Asked Questions
To Win Amount
$10,000.00
Reserved Seating
Yes
Type of Grandstand
Bleacher with backs
Stadium Seating
Not allowed
Handicapped Seating
Lower level and Second level - Reserved seating required - Companion seating is available
Handicapped Parking
Designated handicap parking between the dirt track and zMax dragway
Pit Age Limit
All ages allowed. Minors ages 17 and under must have a signed waiver sheet. ONE parent must be present OR waiver should be notarized with the required ONE parent signature. Call 1-800-455-FANS with questions.
Pit Gate Location
Pit gate is located at Gate 2 of the zMax Dragway
Personal Coolers
No
ATMs
1
Credit Card Use
Concessions, Pit Gate, Ticket Window
Alcohol Sales
Alcohol is also sold at the track
Smoking Policy
designated smoking areas only
Family Section
n/a
Parking Cost
$5
Camping Availability
electric hookup, non-electric, onsite, showers, waste services
Camping Cost
Contact the track for pricing
Closest Airport
Concord-Padgett Regional Airport
Other Airport
Charlotte Douglas International Airport
Track Info
Track Phone
(704) 455-3200
Ticket Phone
(800) 455-3267
Track Size & Type
0.400; semi banked
Sprint Car Track Record
11.880 seconds by Jeff Shepard on 10/6/01
Late Model Car Track Record
14.183 seconds by Kyle Larson on 11/5/20
Race Recap
SECOND TO NONE: Mathieu Desjardins claims first Super DIRTcar Series win in Charlotte
Next season, Mathieu Desjardins is set to take over the #37 Big Block from his teammate Paul St. Sauveur to run on the Super DIRTcar Series tour. If Friday night was a foreshadowing of what is to come, Desjardins has much to look forward to.
Coming into the second night of racing for the Series at the World of Outlaws World Finals, Desjardins had only one previous Series Feature start in America – the night before at The Dirt Track at Charlotte. But the Yamaska, QC driver did not waste any time getting used to racing on foreign soil as he battled for 30 laps to bring home a prestigious World of Outlaws World Finals trophy.
Desjardins drew the Stock Car Steel Pole Award, putting him in the best seat for a potential $10,000 top prize in the 30-lap Feature. When the green flag dropped, Desjardin jumped out in front, holding the lead for the first 13 laps.
Defending Series champion Matt Sheppard, who is poised to win a ninth title on Saturday, crept to the inside of the Quebec native and put on the pressure. After several tight side-by-side battles around the turns with Desjardins riding high and Sheppard taking the inside line, the #9S was able to edge around the #37M and take the lead on Lap 13.
The Waterloo, NY driver commanded the field as he has done several times this season for the next several laps. But after surviving two restarts, his luck ran out after a third yellow flag dropped.
Before the green flag dropped again, Sheppard's machine came to a rolling stop due to a mechanical issue. This cleared the way for Desjardins to move back into the lead. It also bumped Tim Fuller up to second, who had charged his way forward from 12th.
After Sheppard was assisted off the track, the remaining competitors were back to contending for the final 11 laps.
Desjardins and Fuller kept the battle enticing until the end, with Fuller staying within striking distance until they crossed the finish line. After a valiant attempt, it was not enough to overtake the #37M as he kept his lead to bring home a victory back north of the border.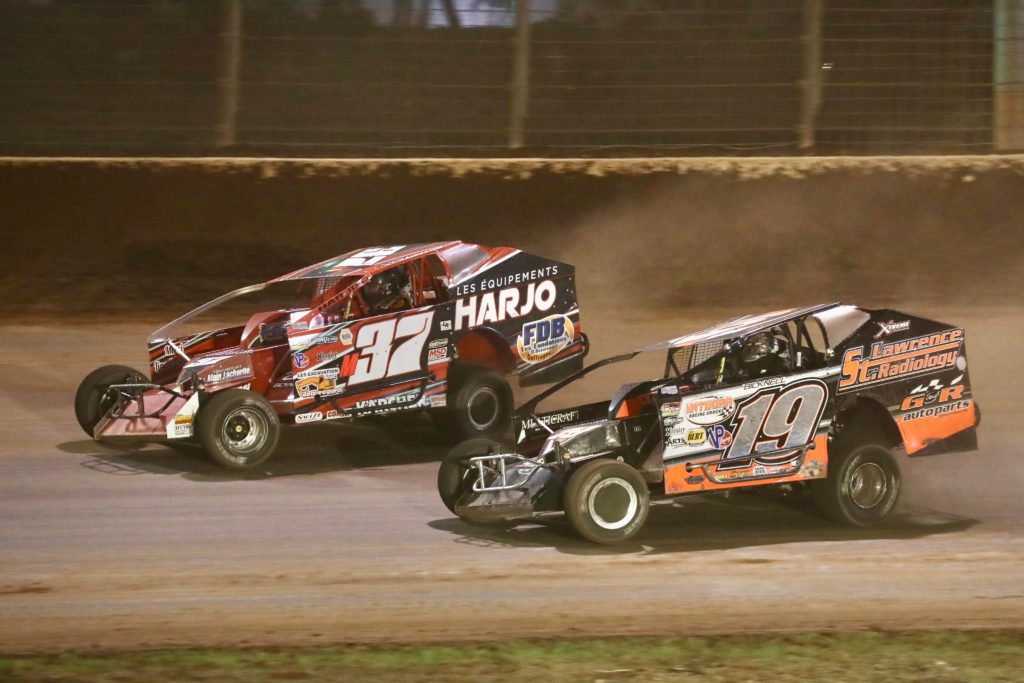 "It's really a dream for me to run the Big Block division," Desjardins said. "In Quebec, we run the Small Block, but it's just crazy to run the Big Block. I like that a lot. It's a lot of experience for me to run with Matt Sheppard, Fuller, and all these guys. It's just crazy."
Fuller was able to run any line and be fast, but he credited Desjardins' precision as a reason he struggled to get around him for the lead.
"I was going wherever they were not," Fuller said. "I could actually go wherever I wanted, it just wasn't as fast on the bottom, especially when I come up to him [Desjardins] who was running the perfect line. If someone was pulling the perfect line up there, it was really tough to pull up to pass on the bottom."
Demetrios Drellos rounded out the podium in third, Peter Britten finished in fourth, and Max McLaughlin finished in fifth.
UP NEXT: The Super DIRTcar Series hits the track Saturday, Nov. 5, for the third and final day of racing at The World of Outlaws World Finals at The Dirt Track at Charlotte for the $15,000-to-win, 40-lap spectacular followed by the official crowning of the season's champion.
For tickets, CLICK HERE.
If you can't make it to the track, you can watch all the action live on DIRTVision – either online or by downloading the DIRTVision App.
Feature Results (30 Laps): 1. 37M-Mathieu Desjardins[1]; 2. 19-Tim Fuller[12]; 3. 111-Demetrios Drellos[9]; 4. 21A-Peter Britten[5]; 5. 8H-Max McLaughlin[8]; 6. 70A-Alex Payne[21]; 7. 25-Erick Rudolph[11]; 8. 91-Billy Decker[2]; 9. 84Y-Alex Yankowski[16]; 10. 215-Adam Pierson[24]; 11. 12-Darren Smith[3]; 12. 88-Mat Williamson[30]; 13. 98H-Jimmy Phelps[6]; 14. 34-Kevin Root[10]; 15. 98JS-Rocky Warner[17]; 16. 3-Justin Haers[19]; 17. 9-Marc Johnson[13]; 18. 2L-Jack Lehner[26]; 19. 99L-Larry Wight[15]; 20. 4-Anthony Perrego[20]; 21. 33-Louden Reimert[22]; 22. 18-Ryan Macartney[18]; 23. 83X-Tim Sears Jr[23]; 24. 8-Rich Scagliotta[14]; 25. 21M-Bob Mcgannon[25]; 26. 14-CG Morey[29]; 27. 37-Paul St Sauveur[28]; 28. (DNF) 9S-Matt Sheppard[4]; 29. (DNF) 17-Marcus Dinkins[27]; 30. (DNF) 26-Ryan Godown[7]
[Read More]
Results
Feature Results
| POS | Start | +/- | # | Driver | Laps | Behind | Led | Status | Points | Money |
| --- | --- | --- | --- | --- | --- | --- | --- | --- | --- | --- |
| | | 0 | | Mathieu Desjardins | | -1,053.806 | | Running | | $ |
| | | 0 | | Tim Fuller | | -1,054.361 | | Running | | $ |
| | | 0 | | Demetrios Drellos | | -1,056.482 | | Running | | $ |
| | | 0 | | Peter Britten | | -1,057.415 | | Running | | $ |
| | | 0 | | Max McLaughlin | | -1,058.754 | | Running | | $ |
| | | 0 | | Alex Payne | | -1,059.422 | | Running | | $ |
| | | 0 | | Erick Rudolph | | -1,060.938 | | Running | | $ |
| | | 0 | | Billy Decker | | -1,061.420 | | Running | | $ |
| | | 0 | | Alex Yankowski | | -1,061.970 | | Running | | $ |
| | | 0 | | Adam Pierson | | -1,062.695 | | Running | | $ |
| | | 0 | | Darren Smith | | -1,062.745 | | Running | | $ |
| | | 0 | | Mat Williamson | | -1,063.476 | | Running | | $ |
| | | 0 | | Jimmy Phelps | | -1,063.524 | | Running | | $ |
| | | 0 | | Kevin Root | | -1,064.464 | | Running | | $ |
| | | 0 | | Rocky Warner | | -1,064.833 | | Running | | $ |
| | | 0 | | Justin Haers | | -1,065.361 | | Running | | $ |
| | | 0 | | Marc Johnson | | -1,066.093 | | Running | | $ |
| | | 0 | | Jack Lehner | | -1,066.195 | | Running | | $ |
| | | 0 | | Larry Wight | | -1,067.124 | | Running | | $ |
| | | 0 | | Anthony Perrego | | -1,067.399 | | Running | | $ |
| | | 0 | | Louden Reimert | | -1,068.084 | | Running | | $ |
| | | 0 | | Ryan Macartney | | -1,068.463 | | Running | | $ |
| | | 0 | | Tim Sears Jr | | -1,069.040 | | Running | | $ |
| | | 0 | | Rich Scagliotta | | -1,069.557 | | Running | | $ |
| | | 0 | | Bob Mcgannon | | -1,069.953 | | Running | | $ |
| | | 0 | | CG Morey | | -1,070.441 | | Running | | $ |
| | | 0 | | Paul St. Sauveur | | -1,054.361 | | Running | | $ |
| | | 0 | | Matt Sheppard | | -670.874 | | Running | | $ |
| | | 0 | | Marcus Dinkins | | -665.446 | | Running | | $ |
| | | 0 | | Ryan Godown | | -231.950 | | Running | | $ |
Last Chance Showdown Results
| POS | Start | +/- | # | Driver | Laps | Behind | Led | Status | Points | Money |
| --- | --- | --- | --- | --- | --- | --- | --- | --- | --- | --- |
| | | 0 | | Anthony Perrego | | -170.258 | | Running | | $ |
| | | 0 | | Louden Reimert | | -172.598 | | Running | | $ |
| | | 0 | | Adam Pierson | | -174.724 | | Running | | $ |
| | | 0 | | Jack Lehner | | -174.840 | | Running | | $ |
| | | 0 | | Zachary Payne | | -175.553 | | Running | | $ |
| | | 0 | | Keith Flach | | -176.991 | | Running | | $ |
| | | 0 | | Ronnie Davis III | | -178.723 | | Running | | $ |
| | | 0 | | Yan Bussiere | | -179.538 | | Running | | $ |
| | | 0 | | Brock Pinkerous | | -180.740 | | Running | | $ |
| | | 0 | | Marcus Dinkins | | -109.630 | | Running | | $ |
| | | 0 | | Brett Hearn | | -24.796 | | Running | | $ |
Last Chance Showdown 2 Results
| POS | Start | +/- | # | Driver | Laps | Behind | Led | Status | Points | Money |
| --- | --- | --- | --- | --- | --- | --- | --- | --- | --- | --- |
| | | 0 | | Alex Payne | | -267.011 | | Running | | $ |
| | | 0 | | Tim Sears Jr | | -267.078 | | Running | | $ |
| | | 0 | | Bob Mcgannon | | -267.665 | | Running | | $ |
| | | 0 | | Danny Johnson | | -268.216 | | Running | | $ |
| | | 0 | | Dave Rauscher | | -269.203 | | Running | | $ |
| | | 0 | | Tyler Thompson | | -269.452 | | Running | | $ |
| | | 0 | | CG Morey | | -269.601 | | Running | | $ |
| | | 0 | | Jeff Taylor | | -270.035 | | Running | | $ |
| | | 0 | | Peter Schwartzott Jr | | -270.600 | | Running | | $ |
| | | 0 | | Paul St. Sauveur | | -271.455 | | Running | | $ |
| | | 0 | | Brian McDonald | | -145.409 | | Running | | $ |
Heat 1 Results
| Pos. | Start | +/- | # | Driver | Hometown | Difference |
| --- | --- | --- | --- | --- | --- | --- |
| | | 0 | | Billy Decker | Unadilla, NY | -132.094 |
| | | 0 | | Peter Britten | Brisbane, QLD | -133.470 |
| | | 0 | | Max McLaughlin | Mooresville, NC | -136.472 |
| | | 0 | | Tim Fuller | Watertown, NY | -137.243 |
| | | 0 | | Alex Yankowski | Covington Township, PA | -137.913 |
| | | 0 | | Anthony Perrego | Walden, NY | -138.204 |
| | | 0 | | Jack Lehner | Saratoga Springs, NY | -139.699 |
| | | 0 | | Keith Flach | Ravena, NY | -141.053 |
| | | 0 | | Yan Bussiere | Drummondville, QC | -141.612 |
| | | 0 | | Brock Pinkerous | Ellenville, NY | -142.898 |
| | | 0 | | Brett Hearn | Sussex, NJ | -142.898 |
Heat 2 Results
| Pos. | Start | +/- | # | Driver | Hometown | Difference |
| --- | --- | --- | --- | --- | --- | --- |
| | | 0 | | Mat Williamson | St. Catharines, ON | -132.901 |
| | | 0 | | Mathieu Desjardins | Yamaska, QC | -134.923 |
| | | 0 | | Demetrios Drellos | Queensbury, NY | -135.527 |
| | | 0 | | Marc Johnson | Guilderland, NY | -137.655 |
| | | 0 | | Rocky Warner | Gloversville, NY | -139.589 |
| | | 0 | | Louden Reimert | Oley, PA | -140.804 |
| | | 0 | | Zachary Payne | Stanley, NY | -140.898 |
| | | 0 | | Marcus Dinkins | Watkins Glen, NY | -141.317 |
| | | 0 | | Adam Pierson | East Corinth, VT | -141.696 |
| | | 0 | | Ronnie Davis III | Syracuse, NY | -142.627 |
Heat 3 Results
| Pos. | Start | +/- | # | Driver | Hometown | Difference |
| --- | --- | --- | --- | --- | --- | --- |
| | | 0 | | Ryan Godown | Ringoes, NJ | -131.214 |
| | | 0 | | Jimmy Phelps | Baldwinsville, NY | -133.375 |
| | | 0 | | Kevin Root | Geneva, NY | -139.882 |
| | | 0 | | Rich Scagliotta | Hillsborough, NJ | -141.346 |
| | | 0 | | Ryan Macartney | Pauling, NY | -142.144 |
| | | 0 | | Bob Mcgannon | Garnerville, NY | -142.485 |
| | | 0 | | Dave Rauscher | Waterloo, NY | -142.677 |
| | | 0 | | Danny Johnson | Phelps, NY | -143.092 |
| | | 0 | | Brian McDonald | Cornwall, ON | -143.319 |
| | | 0 | | CG Morey | Rutland, VT | -143.767 |
| | | 0 | | Peter Schwartzott Jr | White Plains, NY | -145.183 |
Heat 4 Results
| Pos. | Start | +/- | # | Driver | Hometown | Difference |
| --- | --- | --- | --- | --- | --- | --- |
| | | 0 | | Matt Sheppard | Waterloo, NY | -254.052 |
| | | 0 | | Darren Smith | Binghamton, NY | -256.065 |
| | | 0 | | Erick Rudolph | Ransomville, NY | -256.930 |
| | | 0 | | Larry Wight | Fulton, NY | -259.104 |
| | | 0 | | Justin Haers | Phelps, NY | -259.558 |
| | | 0 | | Tim Sears Jr | Central Square, NY | -260.644 |
| | | 0 | | Paul St. Sauveur | Saint-Hyacinthe, QC | -260.883 |
| | | 0 | | Tyler Thompson | Fulton, NY | -261.175 |
| | | 0 | | Alex Payne | Canandaigua, NY | -261.377 |
| | | 0 | | Jeff Taylor | Chittenengo, NY | -38.915 |
Qualifying Results
| POS | Start | Car | Driver | Time | Difference |
| --- | --- | --- | --- | --- | --- |
| 1 | 11 | 91 | Billy Decker | 15.957 | 0.000 |
| 2 | 9 | 21A | Peter Britten | 16.098 | -0.141 |
| 3 | 8 | 8H | Max McLaughlin | 16.190 | -0.233 |
| 4 | 1 | 2L | Jack Lehner | 16.265 | -0.308 |
| 5 | 10 | 19 | Tim Fuller | 16.267 | -0.310 |
| 6 | 4 | 84Y | Alex Yankowski | 16.269 | -0.312 |
| 7 | 2 | 4 | Anthony Perrego | 16.308 | -0.351 |
| 8 | 5 | 21 | Yan Bussiere | 16.413 | -0.456 |
| 9 | 6 | 43 | Keith Flach | 16.540 | -0.583 |
| 10 | 3 | 5 | Brock Pinkerous | 16.546 | -0.589 |
| 11 | 7 | 20 | Brett Hearn | 16.546 | -0.589 |
Qualifying Flight 2 Results
| POS | Start | Car | Driver | Time | Difference |
| --- | --- | --- | --- | --- | --- |
| 1 | 6 | 88 | Mat Williamson | 16.135 | 0.000 |
| 2 | 3 | 37M | Mathieu Desjardins | 16.190 | -0.055 |
| 3 | 10 | 9 | Marc Johnson | 16.215 | -0.080 |
| 4 | 4 | 111 | Demetrios Drellos | 16.243 | -0.108 |
| 5 | 9 | 7Z | Zachary Payne | 16.295 | -0.160 |
| 6 | 5 | 33 | Louden Reimert | 16.308 | -0.173 |
| 7 | 7 | 215 | Adam Pierson | 16.343 | -0.208 |
| 8 | 2 | 98JS | Rocky Warner | 16.638 | -0.503 |
| 9 | 1 | 32R | Ronnie Davis III | 16.753 | -0.618 |
| 10 | 8 | 17 | Marcus Dinkins | 16.755 | -0.620 |
Qualifying Flight 3 Results
| POS | Start | Car | Driver | Time | Difference |
| --- | --- | --- | --- | --- | --- |
| 1 | 4 | 26 | Ryan Godown | 16.060 | 0.000 |
| 2 | 3 | 98H | Jimmy Phelps | 16.286 | -0.226 |
| 3 | 7 | 18 | Ryan Macartney | 16.586 | -0.526 |
| 4 | 5 | 34 | Kevin Root | 16.602 | -0.542 |
| 5 | 1 | 8 | Rich Scagliotta | 16.708 | -0.648 |
| 6 | 2 | 21M | Bob Mcgannon | 16.763 | -0.703 |
| 7 | 10 | 48TOO | Dave Rauscher | 16.765 | -0.705 |
| 8 | 9 | 14 | CG Morey | 16.773 | -0.713 |
| 9 | 11 | 151KB | Brian McDonald | 16.774 | -0.714 |
| 10 | 6 | 4S | Peter Schwartzott Jr | 17.082 | -1.022 |
| 11 | 8 | 27J | Danny Johnson | 17.082 | -1.022 |
Qualifying Flight 4 Results
| POS | Start | Car | Driver | Time | Difference |
| --- | --- | --- | --- | --- | --- |
| 1 | 9 | 12 | Darren Smith | 16.175 | 0.000 |
| 2 | 5 | 9S | Matt Sheppard | 16.266 | -0.091 |
| 3 | 2 | 99L | Larry Wight | 16.436 | -0.261 |
| 4 | 6 | 25 | Erick Rudolph | 16.447 | -0.272 |
| 5 | 1 | 37 | Paul St. Sauveur | 16.455 | -0.280 |
| 6 | 10 | 11T | Jeff Taylor | 16.461 | -0.286 |
| 7 | 8 | 70A | Alex Payne | 16.487 | -0.312 |
| 8 | 3 | 3 | Justin Haers | 16.639 | -0.464 |
| 9 | 4 | 98T | Tyler Thompson | 16.642 | -0.467 |
| 10 | 7 | 83X | Tim Sears Jr | 16.759 | -0.584 |