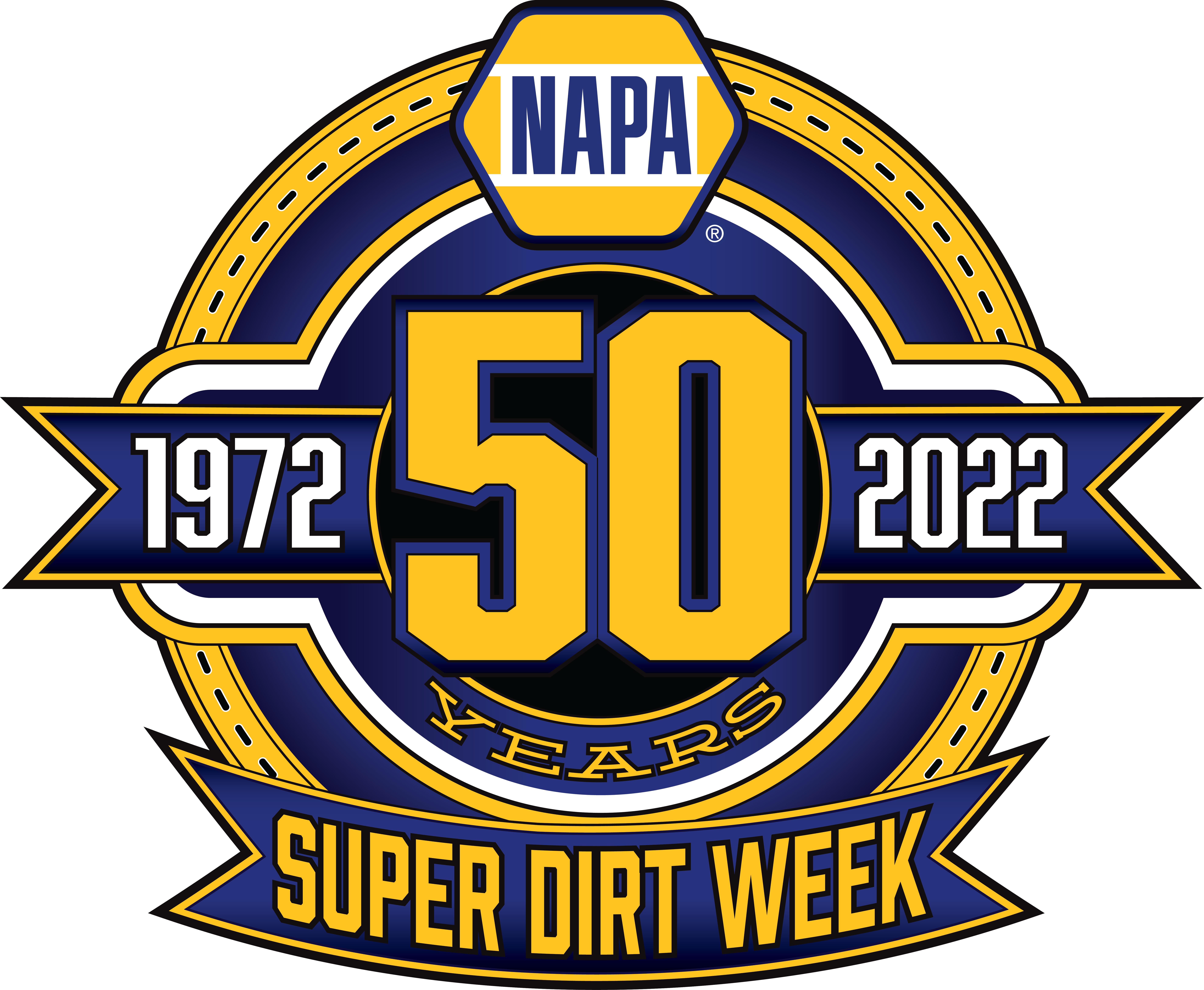 50th NAPA Super DIRT Week
Friday, October 07, 2022
Winner: Cody McPherson 2nd: Chad Edwards 3rd: Zach Sobotka
Event Info
50th NAPA Super DIRT Week

October 3, 2022 to October 9, 2022
Oswego Speedway
300 E Albany Street
Oswego, NY
Event Description
It's the 50th running of the NAPA Super DIRT Week, and there's no shortage of activities on and off the track. Live entertainment, autograph sessions, a past champions race, and more highlight the Super DIRTcar Series, DIRTcar 358 Modifieds, DIRTcar Sportsmans, and DIRTcar Pro Stocks racing throughout the week. $50,000 is on the line in the Super DIRTcar Series feature.
Series Racing
DIRTcar Sportsman Series, Super DIRTcar Series
To Win Amount
$4,000.00
Feature Laps Length
75
Event Schedule
SEE FULL SCHEDULE
*All times Eastern
Sponsors
NAPA Auto Parts
Frequently Asked Questions
To Win Amount
$4,000.00
Type of Grandstand
Bleachers
Pit Age Limit
All Ages
Personal Coolers
Yes, 6"x6"x12" soft-sided cooler
ATMs
1
Credit Card Use
Ticket Window, Pit Gate, Concessions
Alcohol Sales
No alcohol from the outside...yes it is sold at the track
Smoking Policy
No Smoking in the grandstands
Family Section
Yes
Parking Cost
$30
Camping Availability
onsite, non-electric, electric hookup, showers, sanitary facility, waste services
Camping Cost
$100-$150
Closest Airport
Hancock Int'l Airport
Track Info
Track Phone
(315) 342-0646
Ticket Phone
(315) 342-0646
Track Email
oswegospeedway@gmail.com
Track Size & Type
0.625;
Race Recap
CHAMPION'S GAME: Former Super DIRT Week champions grab top starting spots for Sunday's Feature, Qualifying Heats moved to Saturday
Sheppard sets the quickest time, while Williamson and Decker look to contend for the win
The legends came out to play as the top six positions for the Billy Whittaker Cars 200 were locked in with the Super DIRTcar Series Time Trials Friday afternoon at Oswego Speedway.
Three Qualifying Heats were also on the evening's schedule but were postponed until Saturday afternoon due to rain showers.
The eight time and defending Super DIRTcar Series champion Matt Sheppard continued his strong 2022 season when he clocked the fastest time in a field of 72 Big Blocks during Time Trials. With his performance, he not only set himself up for a victory run in Sunday's Billy Whittaker Cars 200 but was also awarded the $1,000 SRI Performance/ Stock Car Steel Pole Award.
"It feels good," Sheppard said.  "We had a really good car yesterday, got a really good car again today. There's only one thing left to do and try and get the job done. Two-hundred laps is a long time. I've been here before when we've felt like we had really good cars and not won and been here when we've felt like when we haven't been that good and won. We got a really good driving car right now and hopefully it stays that way and hopefully we can keep it rolling through Sunday."
Two-time and defending Super DIRT Week champion Mat Williamson was awarded the Finishing Touch Construction Outside Pole Award when he logged the second fastest qualifying time, guaranteeing him the outside pole of the front row alongside Sheppard.
"It's our best Qualifying effort this year, all in all, at Oswego in general," Williamson said.  "Happy and proud for my guys. They worked really hard. We worked hard all day to get the car good enough so it timed good. I'm happy with it."
Billy Decker (third), Ryan Godown (fourth), Peter Britten (fifth), and Mike Mahaney (sixth) rounded out the finishers, all locking themselves into starting spots for Sunday's Feature.
The top three qualifiers are also the top-three 2021 Billy Whittaker Cars 200 finishers, as Williamson was the winner, Decker finished second and Sheppard was third.
Twenty-four more drivers will lock themselves into Sunday's field after the three Qualifying Heats. They were originally scheduled to take place Friday night, but rain showers postponed them until Saturday afternoon.
At 1pm (ET) on Saturday, Oct. 8, DIRTcar 358 Modified drivers competing in the Last Chance Showdowns will get a Hot Lap session. Then, the Super DIRTcar Series Qualifying Heats will immediately follow. The DIRTcar 358 Modified Last Chance Showdowns will be after the Qualifying Heats.
Sheppard, Williamson and Decker will start from the pole in their respective Qualifying Heats – each 25 laps and transferring the top eight finishers to Sunday's main event (or top 10 if the two cars in each Heat that are already locked in finish in the top-eight).
It all leads to The Beast of the Northeast contending in the $50,000-to-win, 200-lap Billy Whittaker Cars 200 on Sunday afternoon for the 50th Running of NAPA Auto Parts Super DIRT Week.
UP NEXT: The Super DIRTcar Series Big Block Modifieds will run their three Qualifying Heats Saturday after the DIRTcar 358 Modified Qualifying Heats at 1pm (ET). It will be the second to last step of preparation for Sunday's Feature, with the Last Chance Showdowns taking place on Sunday, Oct. 9. For tickets, CLICK HERE.
If you can't make it to the track, you can watch all the action live on DIRTVision – either at DIRTVision.com or by downloading the DIRTVision App.
RESULTS
Qualifying (2 Laps): 1. 9S-Matt Sheppard, 00:21.737[49]; 2. 88-Mat Williamson, 00:21.800[47]; 3. 91-Billy Decker, 00:21.935[17]; 4. 26-Ryan Godown, 00:21.983[48]; 5. 21A-Peter Britten, 00:21.997[38]; 6. 35-Mike Mahaney, 00:22.036[26]; 7. 84-Gary Tomkins, 00:22.108[60]; 8. 27J-Danny Johnson, 00:22.118[35]; 9. 12-Darren Smith, 00:22.133[54]; 10. 9-Marc Johnson, 00:22.162[19]; 11. 25-Erick Rudolph, 00:22.167[33]; 12. 39-Kyle Coffey, 00:22.221[15]; 13. 44-Stewart Friesen, 00:22.232[27]; 14. 35L-LJ Lombardo, 00:22.234[22]; 15. 83X-Tim Sears Jr, 00:22.244[7]; 16. 58M-Marshall Hurd, 00:22.263[10]; 17. 4-Anthony Perrego, 00:22.264[12]; 18. M1-David Marcuccilli, 00:22.288[25]; 19. 215-Adam Pierson, 00:22.315[3]; 20. 98-Rocky Warner, 00:22.353[69]; 21. 22-Tanner Van Dohren, 00:22.375[61]; 22. 2-Jack Lehner, 00:22.394[65]; 23. Z8-Max McLaughlin, 00:22.395[21]; 24. 34-Kevin Root, 00:22.397[72]; 25. 98H-Jimmy Phelps, 00:22.417[23]; 26. 62S-Tom Sears Jr, 00:22.424[59]; 27. 28L-Gary Lindberg, 00:22.426[20]; 28. 26R-Corey Cormier, 00:22.435[76]; 29. 3-Justin Haers, 00:22.451[71]; 30. 7D-Tyler Dippel, 00:22.470[55]; 31. 27W-Nick Webb, 00:22.475[24]; 32. 36B-Ben Bushaw, 00:22.492[9]; 33. 115-Kenny Tremont Jr, 00:22.530[13]; 34. 01C-Bob Henry Jr, 00:22.550[56]; 35. 37M-Mathieu Desardins, 00:22.557[51]; 36. 15-Todd Root, 00:22.603[1]; 37. 21C-Brian Calabrese, 00:22.622[14]; 38. 7Z-Zachary Payne, 00:22.624[52]; 39. 70A-Alex Payne, 00:22.629[28]; 40. 7-Rick Laubach, 00:22.641[73]; 41. 49-Billy Dunn, 00:22.647[64]; 42. 5H-Chris Hile, 00:22.649[62]; 43. 43-Jimmy Horton, 00:22.662[37]; 44. 1NY-Gregory Atkins, 00:22.745[6]; 45. 27-Jeremy Pitts, 00:22.825[34]; 46. 9X-Tyler Trump, 00:22.832[58]; 47. 28-Jordan McCreadie, 00:22.852[32]; 48. 37-Paul St Sauveur, 00:22.891[68]; 49. 125-Jackson Gill, 00:22.927[2]; 50. 48TOO-Dave Rauscher, 00:23.005[46]; 51. X-Chad Phelps, 00:23.016[42]; 52. 8-Rich Scagliotta, 00:23.116[8]; 53. 20-Brett Hearn, 00:23.130[11]; 54. 02-Roy Bresnahan, 00:23.147[70]; 55. 19-Tim Fuller, 00:23.162[39]; 56. 19W-Justin Wright, 00:23.164[57]; 57. 63-Adam Roberts, 00:23.226[36]; 58. 76-John Brown, 00:23.291[43]; 59. 14S-Brian Swarthout, 00:23.297[16]; 60. 17-Marcus Dinkins, 00:23.335[45]; 61. 713-Tommy Collins, 00:23.453[4]; 62. Z4-JJ Courcy, 00:23.473[31]; 63. 27JR-Daniel Johnson, 00:23.602[53]; 64. 16-Aaron Jacobs, 00:23.618[66]; 65. 17T-Richie Tobias Jr, 00:23.784[18]; 66. 74-Dave Flannigan Jr, 00:23.917[40]; 67. 14M-CG Morey, 00:24.096[41]; 68. 36-Brian Whittemore, 00:24.217[30]; 69. 11-Steve Lewis Jr, 00:24.560[75]; 70. 28T-Michael Trautschold, 00:24.721[63]; 71. 4C-Michelle Courcy, 00:24.846[5]; 72. 99L-Larry Wight, 00:24.846[44]; 73. 4V-Billy VanInwegen Jr, 00:24.846[67]; 74. (DNS) 11S-James Sweeting, 00:24.846; 75. (DQ) 0-Matt Humes, 00:24.519[50]; 76. (DQ) 18-Ryan Macartney, 00:24.846[29]
[Read More]