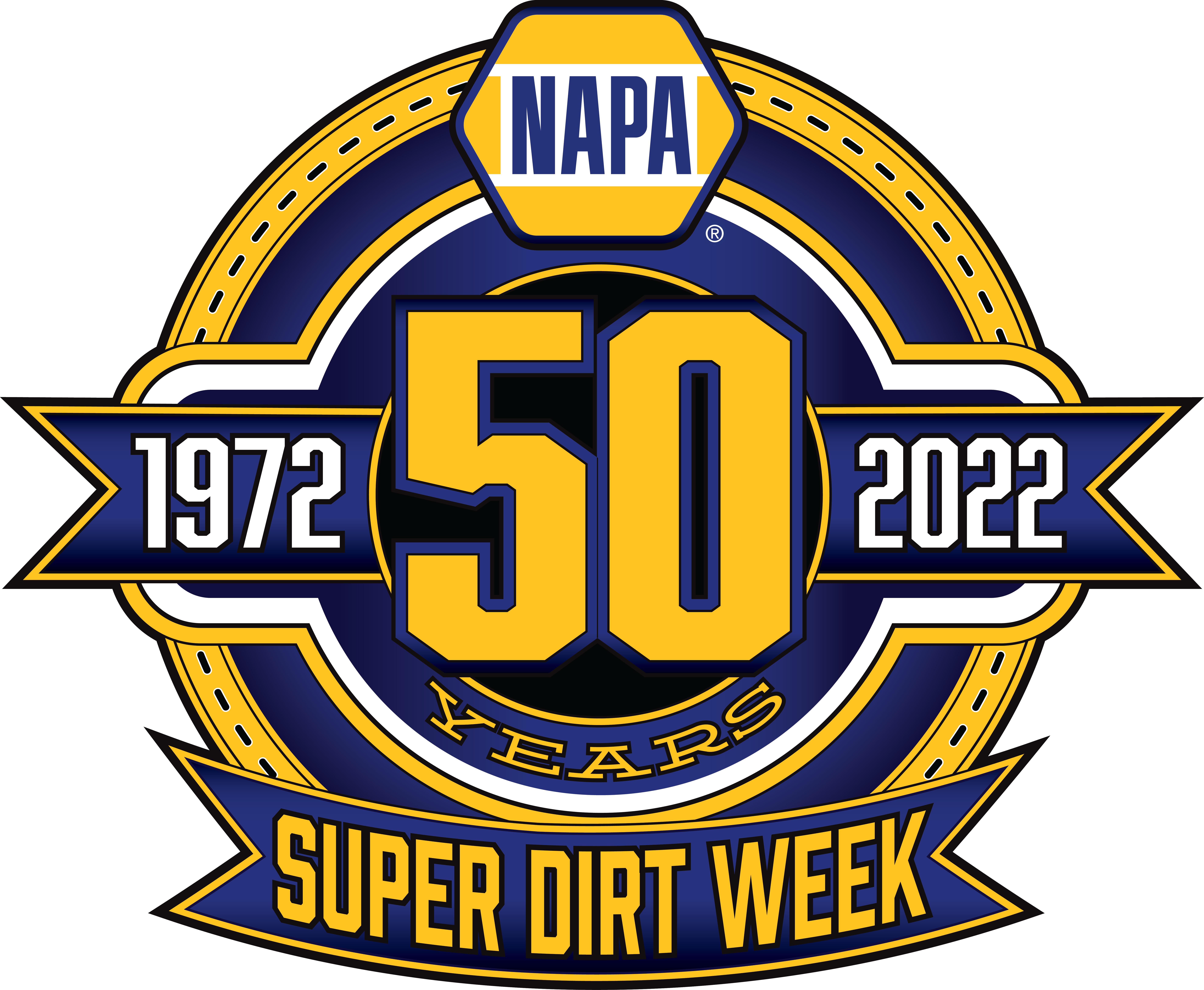 50th NAPA Super DIRT Week
Thursday, October 06, 2022
Winner: Nick Stone 2nd: Chuck Dumblewski 3rd: Pete Stefanski
Event Info
50th NAPA Super DIRT Week

October 3, 2022 to October 9, 2022
Oswego Speedway
300 E Albany Street
Oswego, NY
Event Description
It's the 50th running of the NAPA Super DIRT Week, and there's no shortage of activities on and off the track. Live entertainment, autograph sessions, a past champions race, and more highlight the Super DIRTcar Series, DIRTcar 358 Modifieds, DIRTcar Sportsmans, and DIRTcar Pro Stocks racing throughout the week. $50,000 is on the line in the Super DIRTcar Series feature.
Series Racing
DIRTcar Pro Stock Series, DIRTcar 358 Modified Series, Super DIRTcar Series
Event Schedule
SEE FULL SCHEDULE
*All times Eastern
Sponsors
NAPA Auto Parts
Frequently Asked Questions
Type of Grandstand
Bleachers
Pit Age Limit
All Ages
Personal Coolers
Yes, 6"x6"x12" soft-sided cooler
ATMs
1
Credit Card Use
Ticket Window, Pit Gate, Concessions
Alcohol Sales
No alcohol from the outside...yes it is sold at the track
Smoking Policy
No Smoking in the grandstands
Family Section
Yes
Parking Cost
$30
Camping Availability
onsite, non-electric, electric hookup, showers, sanitary facility, waste services
Camping Cost
$100-$150
Closest Airport
Hancock Int'l Airport
Track Info
Track Phone
(315) 342-0646
Ticket Phone
(315) 342-0646
Track Email
oswegospeedway@gmail.com
Track Size & Type
0.625;
Race Recap
Friesen Takes Checkers as Super DIRT Week Honors 50 Years of Champions
Reutimann, Balough join today's superstars to help kick off 'Racing's Biggest Party'
From the inaugural winner in 1972 to the most recent driver to take the checkered flag, NAPA Auto Parts Super DIRT Week celebrated 50 years of history on Thursday by honoring past champions of the event.
After each former winner — from 1972 winner Buzzie Reutimann to 2021 winner Mat Williamson — was introduced to the crowd, 13 of those superstars raced against each other in a 25-lap special event showcasing the event's legends.
With Reutimann giving the call to start their engines and four-time winner Gary Balough pacing the field in his iconic #112 "Batmobile" it was a night all in attendance will remember.
Stewart Friesen, the last driver to win the on Syracuse's Moody Mile at the New York State Fairgounds and the first driver to win after Super DIRT Week shifted to Oswego Speedway, took advantage of a four-car invert following Time Trials and jumped out to lead the pack.
Two-time Super Dirt Week Champion Matt Sheppard wanted some of the action and was hot on Friesen's heels by Lap 2 after passing Billy Dunn.
The Super DIRTcar Series standouts remained out in front of the field with Sheppard challenging Friesen in the corners of the 5/8-mile dirt-covered Steel Palace. Ultimately, Friesen held off the hard-charging Waterloo, NY driver to win.
"It was fun, it was just an honor to be a part of that," said Friesen, of Sprakers, NY. "A lot of great car owners and sponsors I've driven for led to that. It was really cool to be out there with all those guys and to win it was even more special."
Billy Dunn, the 2013 Super Dirt Week champion, found a rhythm after being passed by Sheppard and managed to drive a solid race to round out the podium.
"We haven't done a whole lot of Big Block racing lately," Dunn said. "We were really comfortable. I was really surprised at our Time Trial lap. We really didn't have enough to hang with Matt and Stew [Friesen], but it was a really good run."
Two-time defending Super DIRT Week champion Mat Williamson finished fourth and Larry Wight finished in fifth.
Friday the Big Block Modified action will continue with the Billy Whittaker Cars and Trux 200 Time Trials, where the top-six finishers will be locked into Sunday's championship race. It will be followed by three 25-lap Qualifying Heats.
Past Champions Race Results (25 Laps): 1. 44-Stewart Friesen[1]; 2. 9S-Matt Sheppard[4]; 3. 49-Billy Dunn[2]; 4. 88-Mat Williamson[5]; 5. 99L-Larry Wight[3]; 6. 19-Tim Fuller[6]; 7. 43-Jimmy Horton[8]; 8. 115-Kenny Tremont Jr[7]; 9. 91-Billy Decker[10]; 10. 39-Vic Coffey[12]; 11. 20-Brett Hearn[11]; 12. 17-Richie Tobias Jr[13]; 13. 27J-Danny Johnson[9]; 14. (DNS) 19B-Kenny Brightbill
[Read More]