Ward Scores First Florida Win In Alltel DIRTcar Nationals Opener At Volusia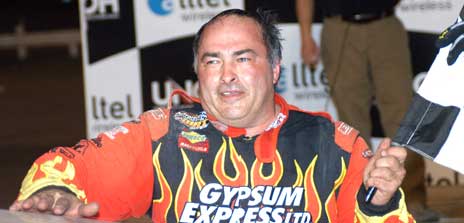 Barberville, FL — February 11, 2009 – By Tom Skibinski, Advance Auto Parts Super DIRTcar Series PR Director
*Bob Armbruster Photo
Big-Block veteran Pat Ward has been coming to Volusia Speedway Park every year since 2001. Perseverence paid off for Ward on Wednesday in his 34th try at taming the Barberville half-miler, with the Genoa, New York driver capturing opening night honors in the 38th Alltel DIRTcar Nationals By UNOH.
"The track was wet there at the beginning and I used a harder right rear (tire) so I was pretty nervous about that," remarked Ward, 51, following his 68th career DIRTcar Big-Block triumph. His latest 30-lap feature win was the first ever in Florida for the 2004 Alltel DIRTcar Nationals points champion, the same year he scored a pair of second-place finishes in the annual winter bash for Advance Auto Parts Modifieds. "But pretty much everything went well after that."
After a lengthy duel with second-generation standout Matt Sheppard, Ward staved off a late-race rally by runner-up Dale Planck with Massachusetts mainstay Andy Bachetti, early race leader Dan Vauter from Pennsylvania and all-time Alltel DIRTcar Nationals Big-Block race winner Brett Hearn from Sussex, New Jersey rounding out the front-five.
Hard-charging Delaware driver Jamie Mills charged from 20th to garner sixth at the checkers, with Sheppard's teammate Jeff Brownell Jr., fourth year Modified pilot Matt Jester, Eastern New Yorker Keith Flach and DIRTcar Big-Block career feature winner Alan Johnson completing the top-10 in the 14-minute finale.
A late race entry in the 25th trip to Florida for Northeastern Modifieds, Vauter jumped past pole-sitter Sean Beardsley at the outset with Ward following suit from his fourth-place starting position on the 27-car grid. Planck was on the move from his 11th-place start and so was seventh starting Sheppard, who cracked the top-five with three laps down.
Vauter continued to set the early pace yet with five laps scored Sheppard had moved in to challenge runner-up Ward while Planck blasted into fifth behind Bachetti two laps later. Spending only a short time shadowing the leaders, Sheppard suddenly shot down low exiting turn four and overtook both Ward and Vauter on lap nine yet turn one traffic immediately after foiled any chance of 'Super Matt' maintaining the advantage as he dropped back to third just as fast.
Ward waited only two more times around before pouncing on the chance to grab his first lead from Vauter on lap 12. Sheppard was far from surrendering as he surged into second the following circuit in the JB Motorsports no. 9s Xtreme Lubricants/Bicknell car. When the first yellow flag flew for apparent debris on the backstretch at the halfway mark, Ward topped the field with Sheppard, Vauter, Planck and Bachetti in close pursuit. Winner of the '08 Florida Tour finale last February, Jimmy Horton's night came to a smoking conclusion after a mid-race run sent him pitside on lap 20 after climbing as high as fifth.
Sheppard pulled right up to Ward's rear bumper across the line on lap 24 and the following circuit made a second bid for the lead with just a handful of circuits to go. But turn three contact between the front-runners resulted in the difference as Ward kept control on the high side while Sheppard was forced to the infield pits to replace a shredded right-rear tread and join the back of the pack before it was all over.
Planck was in prime position on the ensuing restart to challenge for his second Volusia victory in the last two trips south, yet Ward was just as focused on his first win in Florida and turned back a last turn, last lap move by the 'Natural' to hold on for a two car-length margin and a $2,000 payday in the 34th DIRTcar opener in the Sunshine State.
"Not quite sure what happened between me and Matt on the back chute. I was running the same line the whole race. I kinda thought he slid up into me but it looks like his crew thinks I ran into him. Whatever, things happen. I don't like it to happen this way but we still had a good car. We were fast yesterday in practice and fast again today when it counted so I'm happy to finally pick up a win after coming so close so many times," said Ward, after registering the first win of the season for the LJL Racing Team and the no. 42P Gypsum Express/Bicknell machine.
Added Ward, "John, Laura and Larry Wight (owners), thank you very much. It's a great way to start off the week. We knew were quick last night, made a couple adjustments just to free it up and thank god that right rear didn't seal up so much that I couldn't win the race. I love coming to Florida, who doesn't. This is the same car we had last year with our Syracuse motor in it. We're looking forward to the next three nights now."
Returning to Barberville after notching that elusive first win in gator country last winter, Planck was content with second-place knowing he left a little more room to improve.
"Probably should've taken that shot on the bottom a couple laps before as the car was getting real tight on me at the end," figured Planck, 38, who ended up fifth in Alltel DIRTcar Nationals points last year behind co-champions Hearn and Billy Pauch, Alan Johnson and Ward. "The cushion got built up there with the top the best way of getting around and keeping up the momentum."
"Thought I might have a try at (Pat) at the end but Andy was knocking on the door at the top so I didn't dare try a whole lot on the bottom. Just waited to see if he would make a mistake and that mistake never happened.
"The Teo Pro Car has been awesome and this is a brand new Kevlar engine in it right now. We just have to work on the handling a little bit but I'll take a second any day. We had (bad) luck of the draw in the heat and that put us back quite a ways at the start of things. I'm hoping for a little more luck tomorrow, go back to the drawing board on handling and get it a little better for the next race,' added Planck, who will once again team with owner Carey Terrance in the RezX Racing no. 77x Grow It Hydroseeding-Action Race Parts/TEO ride throughout the entire 2009 race season up north.
Ending dead-locked atop the Florida Tour points chart with Hearn in 2005, Bachetti is already way ahead of last year's schedule when he barely managed just a single top-10 in four features qualified for last winter steering the no. 34 Steve Hough Motors/PMC mount at VSP.
"(3rd) is an awesome feeling making it back up here on stage, especially for the guys that got me here," said Bachetti, 33, a one-time winner at Volusia in 2005. "Hats off to everybody that drives 1800 miles just to get here, and that gives me a chance to relax. They work on the car all day, we come here and I beat it up at night like this, then I head back home. Without all these guys helping out I wouldn't even be down here. They support me, I just hope Dale doesn't get that thing hooked up."
"I'm real tight right now, I think that was the rule of thumb tonight as everybody was. Just gotta get a little better balance in it and just get seat time, more laps, and maybe I can run with these guys," added Bachetti, referring to front-runners Ward and Planck, the only two better than the Sheffield, Massachusetts star on opening night.
Three qualifying heats were used to break down the 34-car field that included an experimental GM spec motor-powered Modified that owner Gary Risch Jr. from Western Pennsylvania and Eastern New Yorker Jimmy Johnson shared driving duties in attempting to dial it in throughout the night. Rich Scagliotta, Bachetti and Beardsley copped heat race wins and 16 year-old pilot Larry Wight won the last chance consolation round qualifier over Dave Rauscher, with the top-two finishers in each heat redrawing to determine their spot in the first three rows for the feature.
Ward leads the ground-pounding Advance Auto Parts Modifieds back to Volusia for two more regular programs on Thursday and Friday before DIRTcar Racing Northeast's Big-Block stars battle in the fourth and final round on Saturday, February 14 as a $5,000-to-win 50-lap championship event determines the 2009 Alltel DIRTcar Nationals points champion.
Advance Auto Parts Super DIRTcar Series – Volusia Speedway Park, February 11, 2009
38th Annual Alltel DIRTcar Nationals By UNOH Event #1
BIG-BLOCK MODIFIED FEATURE
FIN STR CAR# DRIVER/HOMETOWN
1 4 42p Pat Ward/Genoa,NY($2,000)
2 11 77x Dale Planck/Cortland,NY
3 6 34 Andy Bachetti/Sheffield,MA
4 2 85 Dan Vauter/Forest City,PA
5 5 20 Brett Hearn/Sussex,NJ
6 20 30 Jamie Mills/Milford,DE
7 17 29 Jeff Brownell Jr./Waterloo,NY
8 19 62 Matt Jester/Lincoln,DE
9 16 43 Keith Flach/Ravena,NY
10 14 14j Alan Johnson/Middlesex,NY
11 8 26 Dave Camara/Poultney,VT
12 9 07 Tim Kerr/Picton,ONT
13 21 88k Randy Chrysler/Lewiston,NY
14 3 8 Rich Scagliotta/Bound Brook,NJ
15 18 165 Rex King Jr./Bristolville,OH
16 7 9s Matt Sheppard/Waterloo,NY
17 13 1 Darwin Greene/Susquehanna,PA
18 26 33t Brad Trice/Parsonsburg,MD
19 22 99L Larry Wight/Phoenix,NY
20 10 97 Michel Chicoine/Ste-Cecile de Milton,QUE
21 15 9 Jeff Brown/Parsonsburg,MD
22 25 32 Jim Rasey/Southington,OH
23 23 48too Dave Rauscher/Waterloo,NY
24 1 17 Sean Beardsley/Central Square,NY
25 12 5 Jimmy Horton/Neshanic Station,NJ
26 24 22c Mario Clair/St-Edmond,QUE
27 27 3g Gary Risch Jr./Sarver,PA
DID NOT QUALIFY(8)
3g-Jimmy Johnson/Bloomingburg,NY
5b-Brian Sadler/Erie,PA
t21-Roger Chrysler/Lewiston,NY
42-Guy Sheldon/Nassau,NY
52-James Friesen/St.Catharines,ONT
79-Jeremy Markle/Port Jervis,NY
91-Billy Decker/Unadilla,NY
923-Colin Jackson/Peckville,PA
Lap Leaders: Vauter (1-8), Sheppard (9), Vauter (10-11), Ward (12-30).
Cautions: 2 (lap 16, lap 25).
QUALIFYING
Heat Races (10 laps, top 7 finishers transferred to feature)
#1: Scagliotta, Ward, Sheppard, Chicoine, Greene, Flach, Jester, Wight, Trice, J.Johnson, Clair, Sheldon.
#2: Bachetti, Hearn, Camara, Planck, A.Johnson, Brownell, Mills, Markle, Ro.Chrysler, Sadler, Jackson.
#3: Beardsley, Vauter, Kerr, Horton, Brown, King, Ra.Chrysler, Rauscher, Friesen, Rasey, Decker (DNS).
Consolation Round (10 laps, top 5 finishers transferred to feature)
#1: Wight, Rauscher, Clair, Rasey, Trice, Markle, Friesen, Ro.Chrysler, Sheldon, Risch, Sadler, Jackson (DNS), Decker (DNS).
Alternate: Risch.
2009 Advance Auto Parts Super DIRTcar Series Big-Block Modified Roster (35)
Car# Driver/Hometown Team (Sponsor / Chassis / Engine)
07 Tim Kerr/Picton,ONT Bronskill & Coe-Greenbush Electric-Kerr Construction/Bicknell/Enders
1 Darwin Greene/Susquehanna,PA Greene Quality Bluestone-Blue Diamond Tools-TJ's NAPA/Bicknell/Jensen Tech
3g Gary Risch Jr./Sarver,PA Budweiser (LaRusse Distributing)-Valvoline-Lajoie Seats/TEO/GM
3g Jimmy Johnson/Bloomingburg,NY Budweiser (LaRusse Distributing)-Valvoline-Lajoie Seats/TEO/GM
5 Jimmy Horton/Neshanic Station,NJ Lincoln Auto Body-Schmidt Racing/Troyer/JPM
5b Brian Sadler/Erie,PA McLallen Construction-Perkins Law Group/Bicknell/Honest Abe
8 Rich Scagliotta/Bound Brook,NJ Central Jersey Trailer & Hitch Depot-Adamsville Maintenance/Troyer/Feil
9 Jeff Brown/Parsonsburg,MD Chesapeake Paving/Bicknell/JB Auto & Machine
9s Matt Sheppard/Waterloo,NY Xtreme Lubricants-Seneca Auto Sales/Bicknell/C.C. Performance
14j Alan Johnson/Middlesex,NY Thompson Road Tavern-Circle S Stables/Troyer/Kevlar
17 Sean Beardsley/Central Square,NY Behron Auto Glass-Town Mechanical-JIR Motorsports/Troyer/Moshier
20 Brett Hearn/Sussex,NJ Madsen Motorsports-Wentworth Custom Homes-Kruger-WLR-BPG/TEO/Enders
t21 Roger Chrysler/Lewiston,NY Iroquois Water-Randy's Smoke Shop-Joey's Sneaks/Bicknell/JanCen
22c Mario Clair/St-Edmond,QUE Bully's Truck Stop-Bert Transmission-Batiments JDL/Bicknell/Morrison
26 Dave Camara/Poultney,VT Camara Slate Products/TEO/Finger Lakes
29 Jeff Brownell Jr./Waterloo,NY Xtreme Lubricants-Seneca Auto Sales/Bicknell/C.C. Performance
30 Jamie Mills/Milford,DE I.G.Burton Car Dealership-ReMax Realtor-L&W Ins./Bicknell/DDE
32 Jim Rasey/Southington,OH Twin Oaks Services South-Alcon Mechanical/Dirt Wheels/Minors Performance
33t Brad Trice/Parsonsburg,MD Chesapeake Paving-Delmarva Improvement Services/Troyer/JB Auto & Machine
34 Andy Bachetti/Sheffield,MA Steve Hough Motors/PMC/JPM
42 Guy Sheldon/Nassau,NY Judd Construction-Heinz Inc./PMC/42 Racing
42p Pat Ward/Genoa,NY Gypsum Express,Ltd./Bicknell/Chevrolet
43 Keith Flach/Ravena,NY Flach Crane & Rigging-Gould Erectors & Riggers/TEO/Enders
48too Dave Rauscher/Waterloo,NY Magee Transportation Services-Monadnock Disposal Service/Bicknell/Morrison
52 James Friesen/St.Catharines,ONT Blue Moon Potatoes-New Generation Racing Engines/Bicknell/Al Blanchard(NG)
62 Matt Jester/Lincoln,DE Clearview Forms-Smith Concrete/TEO/Dan Denny(DDE)
77x Dale Planck/Cortland,NY RezX Racing-Grow It Hydroseeding-Action Race Parts-Teo Fab./TEO/Kevlar
79 Jeremy Markle/Port Jervis,NY Len & Jo's Restaurant-Advance Recovery/Bicknell/Precision
85 Dan Vauter/Forest City,PA Sportsburg.com-Community Bank & Trust/Troyer/Enders
88k Randy Chrysler/Lewiston,NY Signal Cigarettes-Randy's Smoke Shop-Jacobs Tobacco Co./Bicknell/JanCen
91 Billy Decker/Unadilla,NY Gypsum Wholesalers-Stadium Int'l-Quality Hardwoods/Bicknell/Chevrolet
97 Michel Chicoine/Ste-Cecile de Milton,QUE GMCI Express-E.Beaudry Enterprises/Bicknell/Enders
99L Larry Wight/Phoenix,NY Gypsum Express,Ltd./Bicknell/Chevrolet
165 Rex King Jr./Bristolville,OH Jim Brown Seed Sales-Meander Homes-Reese Services/Bicknell/Jim Bailey
923 Colin Jackson/Peckville,PA Ashford Cottages Bed & Breakfast-Jackson Excavating/Bicknell/Griffin
FLORIDA TOUR 2009 PIT NOTES
Wednesday – February 11
*Ward Shines As Newest Alltel All-Star…Through show number nine of the Alltel DIRTcar Nationals By UNOH at Volusia, opening night Advance Series DIRTcar Big-Block winner Pat Ward added his name to the growing list of contenders for the lucrative $10,000 top prize as selected by fans in the month-long tally. The Alltel All-Star contenders and their text message Letter Codes include: Big-Block Modifieds – Pat Ward (i); Sprint Cars – Donny Schatz (b); Stevie Smith (d); Joey Saldana (f); UMP DIRTcar Modifieds – Jared Landers (a), Austin Dillon (c), Randy Hall (e); UMP DIRTcar Super Late Models – Darren Miller (g), Earl Pearson Jr. (h), Dan Schlieper (j). Fans can vote by visiting www.AlltelAllStar.com or texting their drivers code to 247253.
*DIRTcar Big-Block Stars Ride Radio waves…Serving to preview the return of the mighty Big-Block Modifieds to Volusia County, perennial Alltel DIRTcar Nationals Champion Brett Hearn and overall 2008 Mr. DIRTcar titlist Billy Decker participated in "live" interviews on Wednesday prior to the first green flag. Hearn began the day at 8:10am as part of a daily 'Wake Up' show while Decker went on air at 3:30pm with local WNDB Radio Sports Director Mark Williams, who posed numerous questions geared towards highlight the Northeast's premier traveling division while providing background of the reigning overall Hoosier Tire Mr. DIRTcar Big-Block Modified points king to the Sunshine State listeners.
*A.J. Slides Into Borrowed Ride…Harboring initial intentions of steering Dave Thompson's no. 14J Chiefs Tobacco & Gas/Troyer ride for the '09 edition of the Alltel DIRTcar Nationals, all-time DIRTcar Northeast Big-Block winner Alan Johnson arrived at VSP on Wednesday ready to roll aboard owner Bob Schneider's Thompson Road Tavern no. 88 Circle S Stables/Troyer ride. "Dave's car is all ready to go, but I found out at the end of January that he decided to keep it home so I got in touch with Bob," noted Johnson, a two-time Florida Tour champion who last won at VSP in 1986. "Awhile back I had discussed the possibility of following the Advance Series with Bob but he couldn't make a commitment for the whole thing with all the equipment he would need to get the job done right. I wasn't expecting much because the car was all apart in the shop but Steve (Hulsizer, regular driver of the traditionally numbered 88 car who works for Schneider on weekdays as a steel fabricator/welder) did a lot of work getting it together. We took it to Troyer's last Wednesday to get a new body and they even put 14J on it for the trip. Right now I'm still hoping to run with Dave when the season starts up north but that was the plan for Florida, too." Johnson settled for 10th in the opener after finishing fifth in the second of three qualifying heats.
*Team Work, Take Two…JB Motorsports continues for a second successive season with owner Jeff Brownell fielding potent rides for Advance Series star Matt Sheppard and son Jeff Jr. The Xtreme Lubricants/Bicknell specials of Sheppard (9s) and Brownell (29) qualified for the Wednesday lid-lifter and both drivers are primed to challenge for the $1,000 prize package posted for the 2009 Florida Tour points champion — a bonus put up by Jeff Sr. that will reward the top points earner with a check for $500 plus $500 in Xtreme Lubricants Gear Lube and/or Hi-Performance Race Oil. "This will be a nice way to help out the racers while introducing a brand new line of racing oil," said Brownell, who boasts 40 years of experience in the oil business with 25 of those recognized nationally as a company owner. Sheppard (finished 16th) was vying for the lead with eventual winner Pat Ward when contact resulted in shredded right rear tire while Brownell (7th) posted a top-10 in his debut down south.
*Lebanon Valley Legacy…Andy Bachetti, Keith Flach and Guy Sheldon helped carry on the tradition for Lebanon Valley (NY) Speedway with only Sheldon among the track's list of weekly runners in competition failing to make the starting grid in his first-ever voyage to Volusia. Bachetti (3rd) and Flach (9th) posted solid runs with Sheldon still looking for the fast way around in owner Alex Thompson's no. 42 Judd Construction-Heinz Inc/PMC mount. "I was leery of coming down here when you consider all the expenses but Alex wanted to make the trip and I'm his driver," remarked Sheldon, 46, who skipped practice on Tuesday to get in 36 holes of golf while Bachetti's car owner and fellow Valley regular Steve Hough logged some laps in his place. "I'm confident we've got a good shot at finishing near the top in points at Lebanon this year so I didn't want to get behind before we even started up north. But Alex wanted to get some track time so here we are," said Sheldon, who made his only other trip to Florida in 1995, opening his rookie Big-Block season qualifying for three of the four shows staged at St. Augustine Speedway where he scored a 15th-place best in the 50-lap finale. For the record, the Nassau, New York pilot actually qualified in his first-ever Big-Block attempt four months earlier, finishing 32nd at the '94 Super DIRT Week special on the Syracuse Mile behind the wheel of his traditional #518 Sheldon Oil Modified.
*King On The Hill…The King Family made the haul to Volusia with a pair of Big-Blocks and a Late Model in tow, with the open-wheel mounts saved for Rex and Rex Jr. as Russell brought along the lone full-fender machine. Still recuperating from hip surgery performed in December, the elder King turned was still to weary of buckling into his familiar #65 Hunyady Auction Company/Bicknell ride while 'Cooter' logged plenty of track time wheeling his blue #165 Jim Brown Seed Sales/Bicknell entry for a second straight night. The youngest King will have to wait one more day to crack the feature race starting grid while Rex Sr. has been pondering the possibility of putting Russ in his own mount to make the trip more worthwhile.
*Jackson & Markle Back From Beach…Colin Jackson has been traveling to Florida annually since 2004 and Jeremy Markle has taken the trip south throughout the new millennium. Both returned to familiar territory on Wednesday after missing practice the day before at Volusia. "The frame on Colin's truck broke in half on the way down so we had a lot of work to do before we even got here and decided to relax on Tuesday," said Markle, whose parents have a winter home in Avon Park, south of Orlando, 2-1/2 hours from Volusia Speedway Park. No matter what the results Markle plans to stay another week while work requires Jackson to head back home on Sunday after the races. "Our restaurant is being remodelled and we're nearby anyway so we might as well bring the car down and have some fun racing," figured Markle, who was passed in the final turn on the last lap of the consolation race to miss qualifying for the initial feature by just one spot on Wednesday.
*Swinehart Sidelined…Making his way trackside in the first practice session on Tuesday, the proverbial 'puff of smoke' from under the hood of veteran Florida Tour competitor Ray Swinehart's no. 33 J&L Speed Supplies-Scrap USA/Bicknell entry after just a few laps resulted in the first casualty of the '09 Alltel DIRTcar Nationals for Big-Block travelers. Swinehart soonafter determined a burned piston was the culprit and immediately sought out a replacement pitside for the duration of the evening. "Can't understand it, ran the whole second half of last season with no problems and right away we get hit with this," remarked the frustrated Pennsylvania pilot, who has only missed two trips south since DIRTcar returned to Volusia in 1998; qualifying for 29 feature races in those nine previous winter time retreats.
2009 Advance Auto Parts Super DIRTcar Series Schedule
NP=Non-Point event; SP=Show-Up point event;
TBA=To Be Announced; TBD=To Be Determined.
DAY-DATE TRACK LOCATION/WINNER
Wed-Feb 11 Volusia Speedway Park Pat Ward
Thr-Feb 12 Volusia Speedway Park Barberville,FL
Fri-Feb 13 Volusia Speedway Park Barberville,FL
Sat-Feb 14 Volusia Speedway Park Barberville,FL
Sat-Mar 28 Hagerstown Speedway Hagerstown,MD
Sun-May 24 -TBA-
Sat-Jun 6 Lebanon Valley Speedway West Lebanon,NY
Sun-Jun 7 Airborne Speedway Plattsburgh,NY
Sat-Jun 13 Fulton Speedway Fulton,NY
Fri-Jul 3 Ransomville Speedway Ransomville,NY
*** GREAT CANADIAN TOUR ***
Thr-Jul 9 Brockville Ont. Speedway Brockville,ONT
Fri-Jul 10 Autodrome Granby Granby,QUE
Sat-Jul 11 Autodrome Drummond Drummondville,QUE
Sun-Jul 12 Cornwall Motor Speedway Cornwall,ONT
Mon-Aug 3 Merrittville Speedway Thorold,ONT
Fri-Aug 7 Brewerton Speedway Brewerton,NY
Sat-Aug 8 Canandaigua Speedway Canandaigua,NY
Fri-Aug 21 Can-Am Motorsports Park LaFargeville,NY
Thr-Aug 27 Lebanon Valley Speedway West Lebanon,NY
Sun-Sep 6 Cayuga Co.Fair Speedway Weedsport,NY
Mon-Sep 7 Rolling Wheels Raceway Elbridge,NY
Fri-Sep 18 Lernerville Speedway Sarver,PA
Sat-Sep 19 -TBA-
Sat-Sep 26 Rolling Wheels Raceway Elbridge,NY
Sun-Oct 11 New York State Fairgrnds Syracuse,NY
-TBA- Orange Co.Fair Speedway Middletown,NY
-TBD- Big Diamond Raceway Minersville,PA
-TBD- Cayuga Co.Fair Speedway Weedsport,NY
Headquartered in Roanoke, Va., Advance Auto Parts, a leading automotive aftermarket retailer of parts, accessories, batteries, and maintenance items in the United States, serves both the do-it-yourself and professional installer markets As of April 19, 2008, the Company operated 3,291 stores in 40 states, Puerto Rico, and the Virgin Islands. Additional information about the Company, employment opportunities, customer services, and on-line shopping for parts and accessories can be found on the Company's web site at www.advanceautoparts.com.
The Advance Auto Parts Super DIRTcar Series for Big-Block Modifieds is brought to fans across the Northeast by several sponsors and partners, including series sponsors Advance Auto Parts, Hoosier Racing Tire and VP Racing Fuels. Promotional partners include Rite Aid Corporation, Dig Safely New York and the University of Northwestern Ohio and the contingency sponsors are Bars Leaks, Bert Transmission, Bicknell Racing Products, Bilstein Shocks, Brodix Cylinder Heads, Crane Cams, Ferris Industries, Holley HP Carburetors, Integra Shocks, Intercomp, KSE Racing Products, Motorsports Safety Systems, Penske Shocks, Racing Electronics, Rislone Oil Stabilizer and Wrisco Industries.