Heroes Remembered 100
Weedsport Speedway -- Weedsport, NY
Monday, May 27, 2019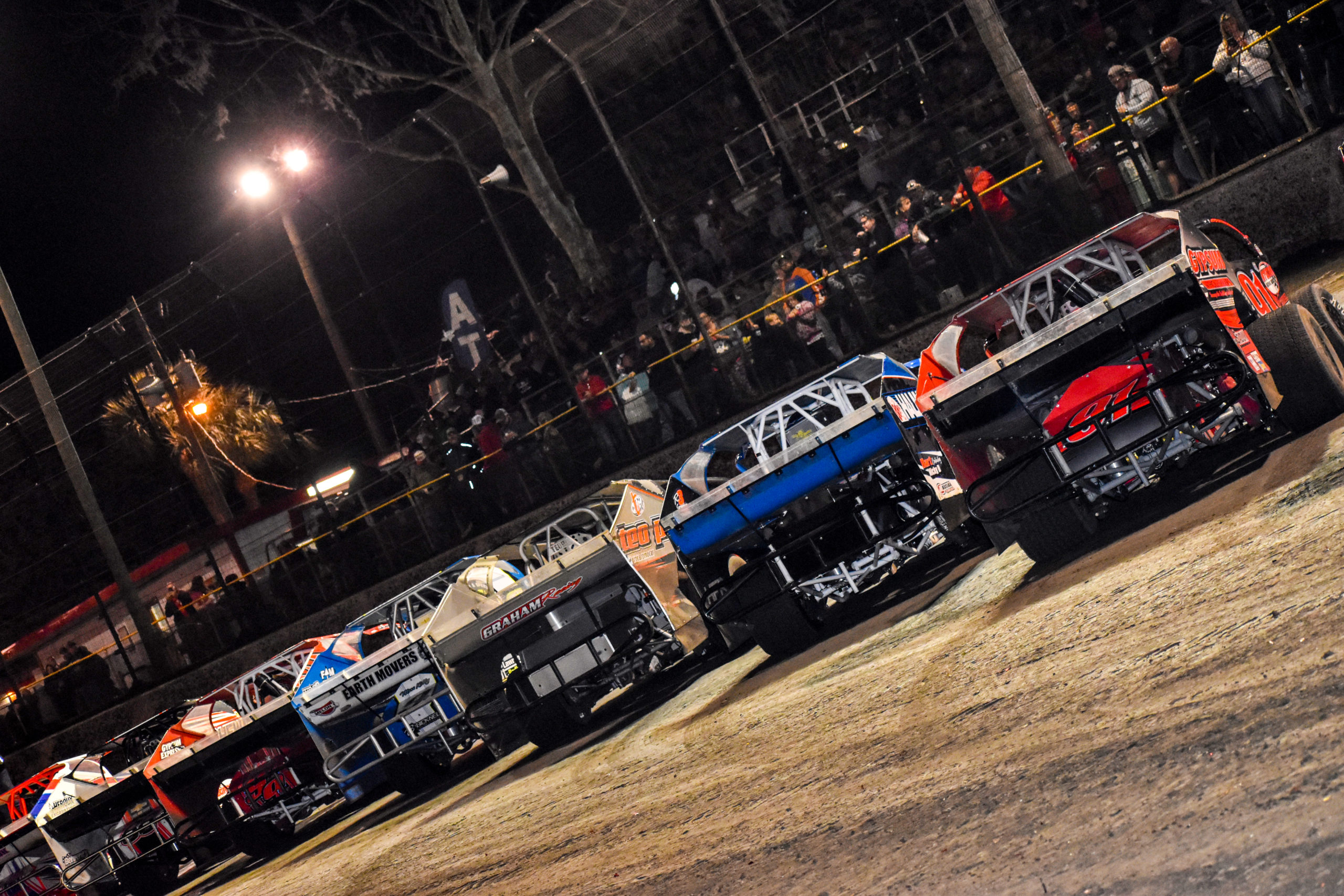 Event Info
Weedsport Speedway
Winner: Erick Rudolph
2nd: Billy Decker
3rd: Stewart Friesen

To Win Amount
$7,500.00
Type of Grandstand
bleacher
Stadium Seating
Seat cushions are permitted. Please note, the top five rows of each section have individually numbered, contoured resin seats and can not accommodate portable stadium seats with back support.
Handicapped Seating
Row A of most sections
Handicapped Parking
Near Grand Entrance
Pit Age Limit
None. Parent or Guardian must complete minor waiver form.
Pit Gate Location
Towpath Road Weedsport NY 13166
Personal Coolers
Yes, small 6″ x 6″ x 12″, personal, soft sided cooler that holds no more than 6 cans. No alcohol. No glass. Must be in original sealed containers.
ATMs
1
Credit Card Use
Ticket Window, Office, Pit Gate, Concessions
Alcohol Sales
Beer and Wine can be purchased by spectators over the legal age of 21. No outside alcohol permitted.
Smoking Policy
No smoking in grandstands. Smoking is permitted in designated areas.
Family Section
Section 8 – no smoking, no alcohol, no foul language.
Parking Cost
Free parking except concerts.
Camping Availability
onsite, non-electric, electric hookup, showers, sanitary facility, waste services
Camping Cost
Determined by event see website for specific details
Closest Airport
Whitford Airport
Other Airport
Syracuse Hancock International
Race Recap: Rudolph Routs the Field at Weedsport
Erick Rudolph led flag-to-flag to win again at Weedsport Speedway
WEEDSPORT, NY – May 27, 2019 – Despite leading all 100 laps of the Heroes Remembered 100, fans were left amazed at the incredible race they had just witnessed. Rudolph fought back challenges from some of the best Super DIRTcar Series drivers to ever get behind the wheel of a Big Block Modified. Billy Decker, Stewart Friesen, and Max McLaughlin took turns trying to ground the high-flying Ransomville racer, but all efforts fell short. With a final lunge, Decker crossed the finish line under the checkered flag alongside the No. 25r, but was unable to complete the pass before the stripe.
Erick Rudolph's winning ways started early in the day when he cruised to a Heat Race win. Next, he needed a little luck. In the Dig Safely NY 811 Redraw, Rudolph scooped up the outside pole and started next to Mike Mahaney. On the initial start, Rudolph outdueled Mahaney, and jumped into the lead on lap one, but that was no by means the end of the race.
NASCAR K&N East hot shoe Max McLaughlin was the next driver to test his mettle against Rudolph. McLaughlin found grip and racing room on the topside and took the fight straight to the No. 25r. Rudolph, sensing the young driver on his right side, began to race right up the track to the No. 6H's door and then going back to the bottom in the corners. These two drivers put on a show for a big crowd of happy race fans.
Eventually, McLaughlin faded and Stewart Friesen took his turn. Rudolph managed to fend off the five-time NAPA Super DIRT Week Champion on multiple restarts. Friesen noted Rudolph's ability to launch on those restarts was key.
Finally, with perhaps the strongest challenge yet, the crimson red of the Gypsum Express No. 91 began to fill Rudolph's mirrors. Decker seemed to get stronger and stronger as the laps ticked by. Decker passed Friesen for second inside of ten laps to go. With both drivers cutting through lapped traffic, Decker managed to get a run on Rudolph coming to the finish line and barely missed out on the $7,500 paycheck. However, Decker and Rudolph both put up some important Championship points, especially with the points leader Matt Sheppard finishing eleventh.
On the finish, Rudolph noted, "I had trouble with a couple of lapped cars. I just couldn't find a line around them. I definitely had a better car at the beginning and middle of the race than at the end, but nevertheless, we were able to hang on. We've got an awesome team here. I don't know what to say. It's pretty remarkable. Max and everyone in the pit area are great competitors. I had to change up a few things throughout the race to stay on top."
Despite falling one position short of the win, Decker was pleased with his Gypsum Racing Big Block Modified, "We had a great race car. I would have liked to have raced a little longer, certainly. He's [Erick Rudolph] been going good here for two years now. He had speed all night. I'm happy with the Gypsum Racing car, with the way it came alive. We had some speed in the Feature and it's the best I've run here in a while."
Friesen felt he was just a tick off of having the winning car. "DKM car was good. We were a half a tenth (of a second) off. It was tough sticking with Erick firing off on the restarts. At the end, we got stuck behind a lapped car there and Decker got us on the outside," he said. The No. 44 was clearly searching for more on the track. "The top was good early. Max showed me that line up there but then it got dirty and went away," noted Friesen.
Notably, points leader Matt Sheppard started the race in the sixth position and maintained that for the first half of the race. He never let the leaders out of his sight, until on lap 37, Sheppard drove the No. 9s a little too deep into turn one and clipped the inside barrier, which broke a shock and caused him to spin. Few counted the eight-time Champion out, but his charge to the front was capped at eleventh.
The KSE Hard-Charger Award winner Jimmy Phelps started twenty-third and diced his way through the field to finish sixth. Phelps needed a strong win over Ryan Godown in his Last Chance Showdown just to make the show. The HBR No. 98H and Godown's No. 26 raced side-by-side for multiple laps before Phelps could sit comfortably in front.
A lot of strong competitors found themselves on the outside looking in when it came to setting the Feature lineup, including Billy Dunn, Anthony Perrego, and another eight-time Series Champion, Brett Hearn. But that is to be expected when 52 of the best Big Block Modified drivers in the country try to fit into a 28-car field. That is also why the Super DIRTcar Series is the premier dirt series in the Northeast.
Next up, the Super DIRTcar Series goes big. The Big Show XI at Albany-Saratoga Speedway pays out $11,111 to the winner in addition to a guaranteed start at NAPA Super DIRT Week XLVIII. Be there on Tuesday, June 25 or tune in with us at FloRacing.com.
FEATURE (100 Laps)
1. 25-Erick Rudolph [5]; 2. 91-Billy Decker [8]; 3. 44-Stewart Friesen [2]; 4. 6H-Max McLaughlin [6]; 5. 99L-Larry Wight [10]; 6. 98H-Jimmy Phelps [23]; 7. 5H-Chris Hile [15]; 8. 83X-Tim Sears [7]; 9. 15-Todd Root [12]; 10. 35-Mike Mahaney [3]; 11. 9S-Matt Sheppard [1]; 12. X-Chad Phelps [22]; 13. 21A-Peter Britten [9]; 14. 19-Tim Fuller [17]; 15. 3-Justin Haers [29]; 16. 11R-Rob Bellinger [24]; 17. 23-Kyle Coffey [20]; 18. 88-Mat Williamson [21]; 19. 26-Ryan Godown [25]; 20. 14J-Alan Johnson [14]; 21. 1M-Dave Marcuccilli [11]; 22. 2L-Jack Lehner [28]; 23. 42P-Pat Ward [13]; 24. 3B-Chad Brachmann [4]; 25. 27J-Danny Johnson [31]; 26. 14W-Ryan Watt [30]; 27. 9X-Tyler Trump [18]; 28. 32R-Ronnie Davis [16]; 29. 111-Demetrios Drellos [27]; 30. 48T-Dave Rauscher [26]; 31. 11J-James Sweeting [19]
KSE Hard Charger Award: 98H-Jimmy Phelps[+17]
Contingency Sponsor Awards:
VP Race Fuels $50 – Tim Sears Jr.
Billy Whittaker Cars & Trux $100 – Matt Sheppard
Cometic Gaskets $50 – Erick Rudolph
Comp Cams $50 – Matt Sheppard
Fox Racing Shox $50 – Alan Johnson
JE Pistons $50 – Larry Wight
MSD Ignition $50 – Erick Rudolph
MSD Ignition $25 – Chad Brachmann
NGK Spark Plugs $50 – Larry Wight
DART $50 – Matt Sheppard
Drydene $50 – Chris Hile
ASI Racewear $50 – Chris Hile
Product Prizes
Bicknell Racing Products – Erick Rudolph
Comp Cams – Erick Rudolph
JE Pistons – Alan Johnson
KSE Racing Products – Chad Phelps
Wrisco Aluminum – Erick Rudolph
NGK Spark Plugs – Alan Johnson
DART – Billy Decker and Ryan Watt
Drydene – Mat Williamson
[Read More]
Race Results: 05/27/19 -- Weedsport Speedway
WEEDSPORT, NY – May 27. 2019 – Last year's Series runner-up Erick Rudolph battled back a bevy of Big Blocks to capture another Weedsport Speedway checkered flag. Close across the stripe behind him was Gypsum Express's veteran pilot Billy Decker. NASCAR Gander Outdoors Truck Series star Stewart Friesen made his bid for the top spot multiple times but was eventually passed by the No. 91.
Qualifying Flight-A
1. 9S-Matt Sheppard, 16.469; 2. 6H-Max McLaughlin, 16.695; 3. 1M-Dave Marcuccilli, 16.881; 4. 32R-Ronnie Davis, 16.893; 5. 88-Mat Williamson, 17.1; 6. 7F-Matt Farnham, 17.216; 7. 49-Billy Dunn, 17.36; 8. 98T-Tyler Thompson, 17.587; 9. 2L-Jack Lehner, 17.763; 10. R2-Rusty Smith, 17.949; 11. 14W-Ryan Watt, 18.006
Qualifying Flight-B
1. 44-Stewart Friesen, 16.718; 2. 83x-Tim Sears, 16.796; 3. 15-Todd Root, 16.92; 4. 19-Tim Fuller, 16.923; 5. x-Chad Phelps, 16.947; 6. 98h-Jimmy Phelps, 17.026; 7. 3-Justin Haers, 17.064; 8. 18-Anthony Perrego, 17.163; 9. 82-Ryan Sussie, 17.526; 10. 27J-Danny Johnson, 17.745; 11. 63-Adam Roberts, 17.81
Qualifying Flight-C
1. 35-Mike Mahaney, 16.785; 2. 42p-Pat Ward, 16.991; 3. 91-Billy Decker, 17.003; 4. 9x-Tyler Trump, 17.021; 5. 26-Ryan Godown, 17.247; 6. 20-Brett Hearn, 17.307; 7. 19w-Justin Wright, 17.403; 8. 28-Michael Trautschold, 17.455; 9. 36-Ben Bushaw, 17.582; 10. 11r-Rob Bellinger, 17.739
Qualifying Flight-D
1. 3b-Chad Brachmann, 16.99; 2. 14j-Alan Johnson, 17.12; 3. 21a-Peter Britten, 17.25; 4. 111-Demetrios Drellos, 17.354; 5. 11j-James Sweeting, 17.468; 6. 37-Paul St, 17.724; 7. 34-Andrew , 17.832; 8. 2-Roy Bresnahan, 18.07; 9. 48t-Dave Rauscher, 18.181; 10. 21x-Eric Williams, 18.286
Qualifying Flight-E
1. 25-Erick Rudolph, 16.938; 2. 99l-Larry Wight, 17.043; 3. 5h-Chris Hile, 17.434; 4. 23-Kyle Coffey, 17.497; 5. 21-Yan Bussiere, 17.813; 6. 15D-Kyle Demetro, 17.813; 7. 165-Rex King, 17.844; 8. 12x-Dillon Grover, 17.94; 9. j82-Joe Shields, 18.483; 10. 17-Marcus Dinkins, 19.357
Heat #1 – Flight (A) – Spon.-1 (8 Laps) – Top 4 Transfer
1. 9S-Matt Sheppard [1]; 2. 6H-Max McLaughlin [2]; 3. 1M-Dave Marcuccilli [3]; 4. 32R-Ronnie Davis [4]; 5. 88-Mat Williamson [5]; 6. 49-Billy Dunn [7]; 7. 7F-Matt Farnham [6]; 8. 2L-Jack Lehner [9]; 9. 98T-Tyler Thompson [8]; 10. 14W-Ryan Watt [11]; 11. R2-Rusty Smith [10]
Heat #2 – Flight (B) – Spon.-2 (8 Laps) – Top 4 Transfer
1. 44-Stewart Friesen [1]; 2. 83X-Tim Sears [2]; 3. 15-Todd Root [3]; 4. 19-Tim Fuller [4]; 5. X-Chad Phelps [5]; 6. 98H-Jimmy Phelps [6]; 7. 18-Anthony Perrego [8]; 8. 3-Justin Haers [7]; 9. 82-Ryan Sussie [9]; 10. 27J-Danny Johnson [10]; 11. 63-Adam Roberts [11]
Heat #3 – Flight (C) – Spon.-3 (8 Laps) – Top 4 Transfer
1. 35-Mike Mahaney [1]; 2. 91-Billy Decker [3]; 3. 42P-Pat Ward [2]; 4. 9X-Tyler Trump [4]; 5. 26-Ryan Godown [5]; 6. 11R-Rob Bellinger [10]; 7. 19W-Justin Wright [7]; 8. 20-Brett Hearn [6]; 9. 36-Ben Bushaw [9]; 10. 28-Michael Trautschold [8]
Heat #4 – Flight (D) (8 Laps) – Top 4 Transfer
1. 3B-Chad Brachmann [1]; 2. 21A-Peter Britten [3]; 3. 14J-Alan Johnson [2]; 4. 11J-James Sweeting [5]; 5. 111-Demetrios Drellos [4]; 6. 34-Andrew [7]; 7. 21X-Eric Williams [10]; 8. 2-Roy Bresnahan [8]; 9. 37-Paul St [6]; 10. 48T-Dave Rauscher [9]
Heat #5 – Flight (E) (8 Laps) – Top 4 Transfer
1. 25-Erick Rudolph [1]; 2. 99L-Larry Wight [2]; 3. 5H-Chris Hile [3]; 4. 23-Kyle Coffey [4]; 5. 165-Rex King [7]; 6. 21-Yan Bussiere [5]; 7. 15D-Kyle Demetro [6]; 8. J82-Joe Shields [9]; 9. 17-Marcus Dinkins [10]; 10. 12X-Dillon Grover [8]
LCS1 – Last Chance Showdowns (8 Laps) – Top 1 Transfer
1. 88-Mat Williamson [1]; 2. 165-Rex King [2]; 3. 3-Justin Haers [5]; 4. 34-Andrew [3]; 5. 19W-Justin Wright [4]; 6. 98T-Tyler Thompson [6]; 7. 17-Marcus Dinkins [7]
LCS2 ( Laps)
1. X-Chad Phelps [1]; 2. 49-Billy Dunn [2]; 3. 20-Brett Hearn [5]; 4. 14W-Ryan Watt [7]; 5. 12X-Dillon Grover [8]; 6. 82-Ryan Sussie [6]; 7. 21X-Eric Williams [4]
B3 ( Laps)
1. 98H-Jimmy Phelps [2]; 2. 26-Ryan Godown [1]; 3. 7F-Matt Farnham [3]; 4. 27J-Danny Johnson [7]; 5. 15D-Kyle Demetro [4]; 6. R2-Rusty Smith [8]
B4 ( Laps)
1. 11R-Rob Bellinger [2]; 2. 18-Anthony Perrego [3]; 3. 111-Demetrios Drellos [1]; 4. 2L-Jack Lehner [4]; 5. 63-Adam Roberts [8]; 6. 28-Michael Trautschold [7]; 7. J82-Joe Shields [5]
FEATURE (100 Laps)
1. 25-Erick Rudolph [5]; 2. 91-Billy Decker [8]; 3. 44-Stewart Friesen [2]; 4. 6H-Max McLaughlin [6]; 5. 99L-Larry Wight [10]; 6. 98H-Jimmy Phelps [23]; 7. 5H-Chris Hile [15]; 8. 83X-Tim Sears [7]; 9. 15-Todd Root [12]; 10. 35-Mike Mahaney [3]; 11. 9S-Matt Sheppard [1]; 12. X-Chad Phelps [22]; 13. 21A-Peter Britten [9]; 14. 19-Tim Fuller [17]; 15. 3-Justin Haers [29]; 16. 11R-Rob Bellinger [24]; 17. 23-Kyle Coffey [20]; 18. 88-Mat Williamson [21]; 19. 26-Ryan Godown [25]; 20. 14J-Alan Johnson [14]; 21. 1M-Dave Marcuccilli [11]; 22. 2L-Jack Lehner [28]; 23. 42P-Pat Ward [13]; 24. 3B-Chad Brachmann [4]; 25. 27J-Danny Johnson [31]; 26. 14W-Ryan Watt [30]; 27. 9X-Tyler Trump [18]; 28. 32R-Ronnie Davis [16]; 29. 111-Demetrios Drellos [27]; 30. 48T-Dave Rauscher [26]; 31. 11J-James Sweeting [19]
KSE Hard Charger Award: 98H-Jimmy Phelps[+17]

Weedsport Speedway
1 Speedway Drive
Weedsport, NY 13166
https://www.weedsportspeedway.com/
Track Phone
(315) 834-3067
Ticket Phone
(315) 834-3067
Track Email
info@weedsportspeedway.com
Track Size & Type
3/8-mile D-shaped clay
Weedsport Speedway Facebook
Weedsport Speedway Twitter
Weedsport Speedway Instagram
2021 -- Mat Williamson on May 30, Stewart Friesen on July 25
2020 -- Max McLaughlin on Oct. 11
2019 -- Matt Sheppard on September 2nd; Matt Sheppard on July 28th; Erick Rudolph on May 27th
2018 -- Erick Rudolph on July 28th; Stewart Friesen on May 28th
2017 -- Matt Sheppard on September 4th; Stewart Friesen on July 11th
2016 -- Danny Johnson on September 17th; Matt Sheppard on September 5th; Gary Tomkins on August 9th
2015 -- Matt Sheppard on August 6th; Billy Decker on August 7th
2014 -- Billy Decker on August 7th
2010 -- Larry Wight on September 5th; Matt Sheppard on July 17th; Jimmy Phelps on July 16th; Matt Sheppard on May 30th
2009 -- Billy Decker on September 6th; Ryan Phelps on July 19th; Ryan Phelps on July 18th
2008 -- Billy Decker on August 31st; Alan Johnson on August 31st; Dale Planck on May 25th
2007 -- Alan Johnson on September 2nd; Billy Decker on September 2nd; Danny Johnson on August 19th; Tim Fuller on August 19th
2006 -- Alan Johnson on September 3rd; Danny Johnson on May 28th
2005 -- Tim Fuller on May 29th