Thunder on the 1000 Islands
Can Am Speedway -- Lafargeville, NY
Wednesday, May 18, 2022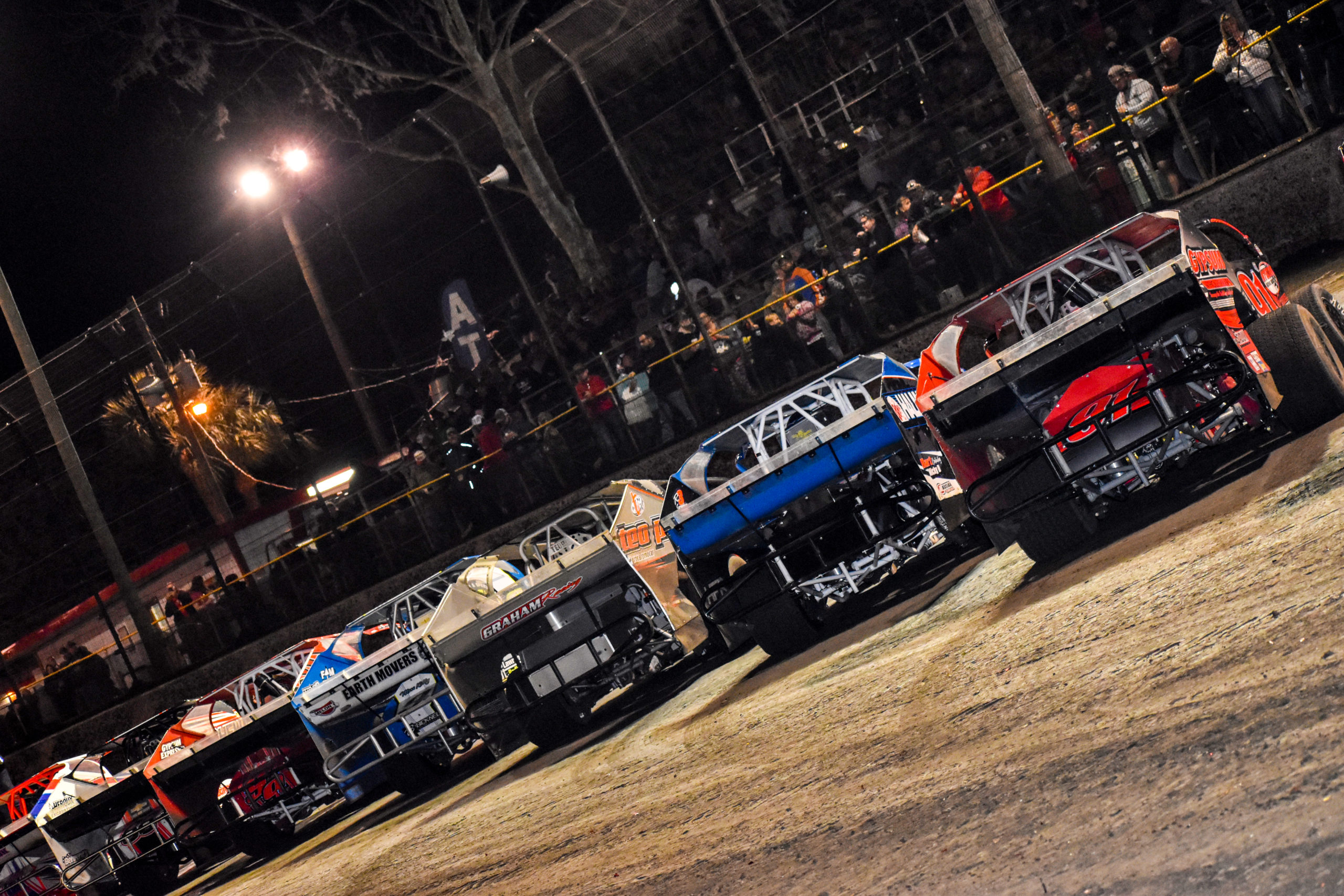 Event Info
Can Am Speedway
Winner: Matt Sheppard
2nd: Stewart Friesen
3rd: Tim Fuller

Thunder on the 1000 Islands
May 18, 2022
Can Am Speedway
21047 State Route 411
Lafargeville, NY
https://www.racecanam.com
Watch on DIRTVision
https://www.dirtvision.com/videos/4-9-22-can-am-speedway
Event Description
The Super DIRTcar Series races 75 laps in a $7,500 to win event at Can Am Speedway!
Series
Super DIRTcar Series
Support Divisions
DIRTcar Pro Stock Series
To Win Amount
$7,500.00
Feature Laps Length
75
Event Schedule
3:00 PM - Pit Gates Open - Technical Inspection Begins
3:00 PM - Draws Opens
5:45 PM - Draws Concludes
5:45 PM - DIRTcar Pro Stock Drivers Meeting
6:00 PM - Super DIRTcar Series Drivers Meeting
6:30 HOT LAPS/My Place Hotels Qualifying
Super DIRTcar Series Hot Laps
DIRTcar Pro Stocks Timed Hot Laps
Super DIRTcar Series My Place Hotels Qualifying
7:20 OPENING CEREMONIES / ANTHEMS
Super DIRTcar Series Heats (8 Laps)
DIRTcar Pro Stock Heats (8 Laps)
Super DITcar Series Redraw Front Stretch (Track Prep if necessary)
DIRTcar Pro Stock Redraw - Front Stretch
Super DIRTcar Series Last Chance Showdown(s) (10 Laps)
DIRTcar Pro Stocks Last Chance Showdown (10 Laps if necessary)
Intermission/Track Prep if necessary
Super DIRTcar Series Feature (75 LAPS)
DIRTcar Pro Stock Series (30 Laps)
Support Divisions
DIRTcar Pro Stock Series
To Win Amount
$7,500.00
Type of Grandstand
bleachers aluminum and wood
Handicapped Seating
yes
Handicapped Parking
yes
Pit Gate Location
Parking lot
Personal Coolers
no outside drinks medical only
Credit Card Use
Ticket Window, Office, Pit Gate, Concessions
Parking Cost
free
Camping Availability
non-electric, onsite
Closest Airport
Watertown
Other Airport
Syracuse
Race Recap: SUPERMAN RETURNS: Sheppard Dominates Thunder on the Thousand Islands at Can-Am
McLaughlin surges 18th-4th, Friesen's runner-up makes him new Series points leader
Matt Sheppard stood in Victory Lane where he has many times before after winning the Thunder on the Thousand Islands Super DIRTcar Series event at Can-Am Speedway Wednesday night, making himself $7,500 richer.
After posting a DNF in his last race with the Series at Bridgeport Speedway on May 3, the reigning champion bounced back in dominating fashion, leading all 75 laps for his first Series win of the season.
Sheppard ran a solid time in Qualifying to place him second on the starting grid before a win in Heat Race #2. Later, "lady luck," as he describes it, was on his side, pulling the pole position for the 75-lap Feature.
"Things are going our way," Sheppard said. "We're getting good draws, we're getting cautions when we need them, we're not getting cautions when we don't need them, lady luck is just as big a part of it as anything. You can have a fast race car and do everything right, but if you don't have luck on your side, you're in trouble too."
Sheppard took the green flag and bolted out to an early lead. Jimmy Phelps put pressure on him in second until Lap 48 when he was passed by Stewart Friesen. Sheppard never relinquished the top spot, holding the lead the entire way in the caution-free event.
"I looked up at the lap counter and saw the laps were ticking on, and I was kind of like, 'I don't know if I want to see a caution now,'" Sheppard said. "Like I said, it went our way tonight."
Defending winner of the Thunder on the Thousand Islands, Stewart Friesen, had his work cut out for him after drawing the eighth position in the redraw. Friesen finished second in his last Series event at Bridgeport, getting edged out by one spot to local driver Ryan Godown in the final laps.
He battled his way into contention after a quick eighth-to-fifth jump on the opening lap, then clawing his way through the top-five over the next 45 laps. His biggest climb was catching Jimmy Phelps for the second spot, erasing a gap of over 1.5 seconds from Lap 26 to Lap 47 when he finally made the pass.
In the end, the multi-time NAPA Super DIRT Week champion was unable to close a six-plus second gap to leader Sheppard, finishing the race in the runner-up spot for the second race in-a-row. However, back-to-back bridesmaid results have put him in control of the Series points standings by 13 over Max McLaughlin.
"We'll keep trying and we'll keep swinging," Friesen said. "This place is a lot different than it was last year. We'll see what it is the next time we come back. We go to Weedsport and then Lebanon Valley, so some tracks we've had good runs at lately. We'll try to get one better."
Rounding out the podium was 2005 Series champion Tim Fuller, who made a late-race charge and went from fifth-to-third inside the final 20 laps.
McLaughlin had one of the most eye-opening drives of all, advancing 14 spots of position in 71 laps on his way from 18th to finish fourth. He now sits second to Friesen in the Series points standings, just 13 markers behind.
UP NEXT
The Super DIRTcar Series next heads back home to Weedsport Speedway for the Heroes Remembered 100 on Sunday, May 29, followed by a Monday night showdown at Lebanon Valley Speedway on Monday the 30th. Stream all the action live on DIRTVision.
ABBREVIATED RESULTS (view full results)
Feature (75 Laps): 1. 9S-Matt Sheppard[1]; 2. 44-Stewart Friesen[8]; 3. 19-Tim Fuller[6]; 4. 8H-Max McLaughlin[18]; 5. 88-Mat Williamson[3]; 6. 98H-Jimmy Phelps[2]; 7. 25R-Erick Rudolph[16]; 8. 3H-Justin Haers[9]; 9. 28-Jordan McCreadie[4]; 10. 21A-Peter Britten[20]; 11. 2L-Jack Lehner[7]; 12. 83X-Tim Sears Jr[13]; 13. 4-Anthony Perrego[14]; 14. 99L-Larry Wight[24]; 15. 2A-Mike Gular[17]; 16. 3J-Marc Johnson[21]; 17. 91-Billy Decker[25]; 18. 7Z-Zachary Payne[11]; 19. 84Y-Alex Yankowski[23]; 20. 215P-Adam Pierson[19]; 21. (DNF) 7MM-Michael Maresca[15]; 22. (DNF) R70-Ryan Arbuthnot[5]; 23. (DNF) 49-Billy Dunn[12]; 24. (DNF) 66X-Carey Terrance[10]; 25. (DNF) 60-Jackson Gill[22]; 26. (DNF) 34-Kevin Root[26]; 27. (DNF) 66W-Derek Webb[27]
[Read More]

Can Am Speedway
21047 State Route 411
Lafargeville, NY
https://www.racecanam.com
Track Phone
(315) 876-3478
Ticket Phone
(315) 876-3478
Track Email
canamspeedway@gmail.com
Track History
As a direct descendant of the famed Watertown Speedway, the Can-Am Speedway was built in 1974 by an Evans Mills, NY real estate broker, Leslie W. Brown. The track lasted one year under this ownership and Brown filed for bankruptcy.
Early in 1975, a group of Watertown NY investors purchased the track — Bob Thurston Sr., Douglas Atkinson, and Thomas Coughlin. In 1981, Bob Thurston Sr. bought out the other two and became the sole owner.
The Thurston family owned the track during the glory years of the '80s and '90s. Thurston was responsible for bringing Can-Am under the DIRTcar Racing banner during the winter of 1982-83. The Thurston family did a remarkable job with the speedway, rebuilding the VIP towers after a vicious storm hit the track in 1995. With the help of many people around the racing community, the track was back up and running in just three weeks.
John Wight, of Baldwinsville, NY purchased the track in the summer of 2000. Wight had big plans for the speedway and introduced the Big Block Modifieds as the top class at the speedway. Wight eventually sold the track to Charlie and Billy Caprara from the F.X. Caprara car companies late in the 2003 season. The track would now be known as Caprara Bros. Can-Am Motorsports Park.
Just a couple of months into the 2009 season, the Capraras sold the track to long-time racer and Rochester businessman Tiger Chapman and his wife who currently still own it.
Track Size & Type
3/8 mile clay
Can Am Speedway Facebook
Can Am Speedway Instagram
2021 -- Stewart Friesen on April 10
2020 -- Anthony Perrego on Oct. 9
2019 -- Matt Sheppard on April 13
2009 -- Matt Sheppard on August 21
2008 -- Gary Tomkins on August 16
2007 -- Steve Paine & Tim Fuller on August 18
2003 -- Tim McCreadie on Sept. 6
2002 -- Tim McCreadie on July 24
2000 -- Danny Johnson on July 20
1999 -- Billy Decker on July 22
1997 -- Steve Paine on July 17
1996 -- Bob McCreadie on July 18
1995 -- Danny O'Brien on August 30
1994 -- Alan Johnson on July 20
1993 -- Steve Paine on July 21
1992 -- Doug Hoffman on July 21
1991 -- Steve Paine on July 23
1990 -- Pat O'Brien on July 17
1989 -- Brett Hearn on July 18