Big Block Modified icons make up majority of Orange County Fair Speedway winners list
Less than two hours from New York City is an iconic 5/8-mile oval with an impressive history of fostering Big Block Modified champions – Orange County Fair Speedway in Middletown, NY.
For more than 90 years the track's Victory Lane has welcomed an elite class of Big Block Modified drivers. Four of the top six on the career wins list with the Super DIRTcar Series went on to capture the coveted Billy Whittaker Cars 200 at Super DIRT Week, among other accolades.
It's hosted 56 Series races with 22 different winners and adds another appearance for the Series on Sunday, May 7, for the Battle for the Fairgrounds showcase.
The most successful racer at the track is the most successful winner in Super DIRTcar Series history. Brett Hearn, of Sussex, NJ, has captured 15 Series wins in his career, and 302 total wins at the track he's called home for over four decades, along with sixteen Big Block Modified track championships, and hundreds of trophies. Hearn captured his first Series win at Orange County Fair Speedway on August 19, 1980, near the beginning of his legendary career. He logged at least two wins each decade until his most recent victory on October 26, 2014.
"It's a very nostalgic track," Hearn said. "It's got a great racing history."
Next on the career win list is another dirt Modified Hall of Famer, Jeff Heotzler. The six-time Orange County Fair Speedway track champion started his career back in the late '70's around the same time as Hearn. His first victory came Aug. 27, 1984, with his sixth victory coming 23 years later on Oct. 21, 2007.
Currently holding third place on the career wins list is two-time Super DIRT Week champion Danny Johnson. His three decades of competition in the sport allowed him to make a name for himself, notching five career victories over a span of 28 years, with his most recent one coming on Oct. 23, 2011. He currently sits tied with full-time Series driver Matt Sheppard for second on the career Series wins list at 89.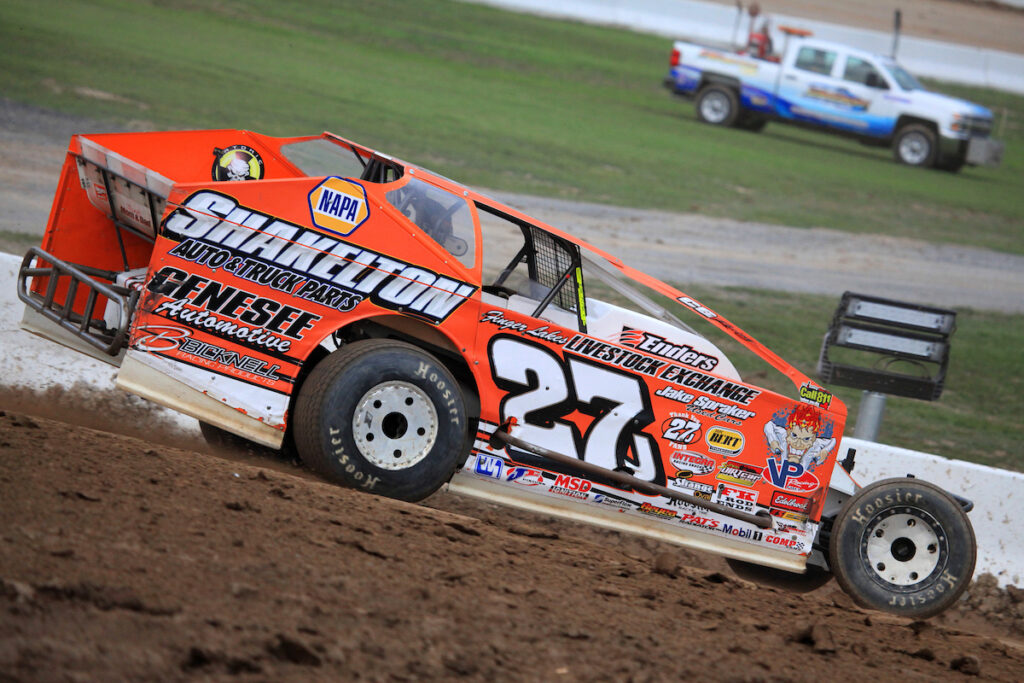 Inaugural winner Buzzie Reutimann, Billy Decker, and Chuck McKee come in next on the list tied with three wins a piece. Reutimann etched himself into the history books as the first Series winner at Orange County Fair Speedway on July 29, 1972, before going on to become the inaugural winner of the Billy Whittaker Cars 200 later that fall.  He notched two more wins at the oval the next two seasons while also capturing his second Super DIRT Week title in 1973.
Decker and McKee grabbed their wins in a short span of time compared to the rest. Decker scored his first in '06, his second in '09, and his most recent in '11. McKee's wins came in '98, '00, and '02.
On down the list, five drivers come in at two wins a piece – two of them current Series stars. Nine-time and defending Series champion Matt Sheppard won in '19, and then during the most recent Series visit in '22. NASCAR Truck Series star Stewart Friesen notched wins himself in '18 and '21.
Three-time Super DIRT Week champion Alan Johnson scored two wins of his own along with 2008 Super DIRT Week champion Frank Cozze. Bobby Bottcher also notched two victories.
Eleven different drivers have scored one Series victory at the track.
This Sunday, the list will expand and allow another driver the opportunity to be added next to the list of legendary names.
If you can't make it to the track, you can watch all the action live on DIRTVision – either online or by downloading the DIRTVision App.
Orange County Fair Speedway (56 Races, 22 Winners)
15 – Brett Hearn
6 – Jeff Heotzler
5 – Danny Johnson
3 – Billy Decker, Chuck McKee, Buzzie Reutimann
2 – Matt Sheppard, Stewart Friesen, Frank Cozze, Bobby Bottcher, Alan Johnson
1 – Jimmy Phelps, Bobby Varin, Gary Tomkins, Jack Johnson, Bob McCreadie, Richie Eurich, Rich Burgess, Dave Lape, Will Cagle, Gary Balough, Gerry Chamberlain