Six laps in practice. Three laps in qualifying. And 125 laps in the 1980 Schaefer 200 during Super DIRT Week.
Those are the only laps Gary Balough got to make in the famous #112 "Batmobile."
After dominating the event, pacing the field two seconds faster than he had the three previous years he'd won it, the radically designed "Batmobile" was parked. Outlawed by officials at the time, the car Balough called "ahead of its time" never raced competitively again.
For Balough, the biggest disappointment is knowing the car was far from complete.
Aside from driving on seven cylinders for three-quarters of the race, Balough said the engineering of the car was barely tapped into.
Designed and build by National Sprint Car Hall of Fame Inductee Kenny Weld and veteran Indianapolis 500 mechanic Don Brown, the "Batmobile" had a unique design and aerodynamics, taken straight from Indianapolis open-wheel car designs – some of which have been adapted to modern-day Big Block Modifieds. However, beyond the aerodynamics, Balough said there's more about the car people still don't comprehend.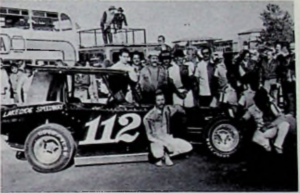 "That car was way ahead of them guys," Balough said. "They still don't understand it. That was a full car, you could drive around the outside and drive underneath people. There's a lot there for people to learn from."
Weld came up with the initial concept of the car, having drawn it on a piece of paper to show to Balough, and only Balough. He wasn't interested in building it for anyone else.
However, Balough was in the hospital with a broken neck after a racing accident at the time. He suggested someone like Bobby Allison could drive it instead, but Weld would have rather scrapped the idea than build the car for someone else.
"Kenny wasn't high on a lot of people," Balough said. "He was borderline genius, and he was one hell of a racer. He could do both and do it all. For him to have someone else drive one of his cars, it was special to him. He took a liking to me. He watched me race on asphalt and raced against me on asphalt. And he watched me win Syracuse three times. He said, 'I know this is what we need to do. I want to do this with you.'"
Sitting in the hospital with his neck injury, seeing the potential for the car, Balough told Weld to start building. He was going to return to racing, and he was going to drive his car.
Weld's initial pitch to Balough was he's seen him drive 110 percent all the time, so we wanted to build him a car he only needed to drive at 75 percent and still be competitive.
"I was like, 'What?!'" Balough said. "But you could."
The only testing they did with the car was driving it down a road to make sure the brakes work. Then after six laps in practice, Weld told the team to put a car cover on it. They were done for the day. The only adjustments they made were small shock adjustments and drilling a couple of holes for air flow to Balough's hands because the cockpit got so hot he could barely hold onto the wheel.
He won the pole, 4 mph faster than outside polesitter Sammy Beavers, creating controversy throughout the field. Teams started modifying their cars to try and mimic the "Batmobile's" side pods, hoping to be able to keep up with Balough.
No one could. He led 98 of the 125 laps, gapping the field by more than a straightaway every time he took the lead. And he did so on seven cylinders.
The engine broke a rocker arm about 30 laps into the race, putting Balough down a cylinder. Weld told him to keep running it, though.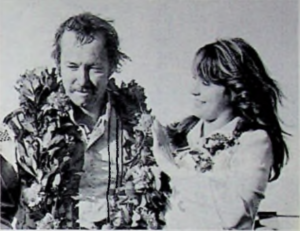 "There weren't no sense in stopping," Balough said. "If it breaks it breaks. [Weld] said just keep going. If you can, take it easy down the straightaways and run the corner a little faster. So, I kept the corner speed up and ran half to three-quarter throttle down the straightaway and it made it. The rocker arm turned enough to where it didn't get in the spring and didn't jam nothing up. Luck. I'd rather be lucky than good."
However, with victory came defeat. While Balough kept the win – his fourth Super DIRT Week victory (1976, 1977, 1978, 1980) – he and Weld were never allowed to bring the car back again.
"There wasn't anything wrong with it," Balough said. "It was legal. We said you can measure anything you want. If you didn't like what you seen, you should have said something then."
The "Batmobile" will return to Super DIRT Week this year, but only for display to celebrate the 50th Running of the event. However, if he could take it on track to compete, Balough is confident there's more untapped potential with the car.
"We never got to run enough with the other cars to know exactly what we needed and what we could do," Balough said. "[Brown] had a pretty good idea of what the air counts were because he built that shit for the Indianapolis cars. He was pretty smart. We were never really trimmed out like we could have been. We could've got so much better with the shocks and so much better with the aero."
Balough will be at the 50th Running of NAPA Auto Parts Super DIRT Week at Oswego Speedway, Oct. 3-9, with the "Batmobile" and his #73 Modified that he won his first three Super DIRT Week titles with, selling his book, taking part in the DIRTcar Day parade (Wednesday, Oct. 5), pacing the field for the Past Champions Race (Thursday, Oct. 6), and eager to share his stories.
For tickets to the 50th NAPA Super DIRT Week, CLICK HERE.