Track Length: 4/10 Mile
Track Record: Not Entered
NEXT EVENT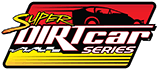 Frequently Asked Questions
What type of grandstands does Airborne Speedway does have? Bleachers
Where is the family section located? section E and F
What is the alcohol policy? yes, Beer
What is the cooler policy? Yes, Must be no larger than 14.5 X 11.5
What is the smoking policy? In an effort to promote family friendly entertainment, staff and management have made the decision to ban smoking from the grandstands. Those wishing to smoke must step away from the grandstands to do so.
Where is the handicapped seating located? Metal Bleachers on front Stretch
How much does parking cost? $0.00
Are credit cards accepted? Ticket Window, Pit Gate
Is there any camping available? onsite, non-electric
How much does it cost to camp on property? $15 a day
What is the pit age requirement? NO age restriction for pits. 17 and under must be accompanied by a parent/ guardian.
Super DIRTcar Series Winners
2019 -- Larry Wight on July 1st
2018 -- Danny Johnson on July 31st
2017 -- Larry Wight on July 6th
Track Map